The long journey home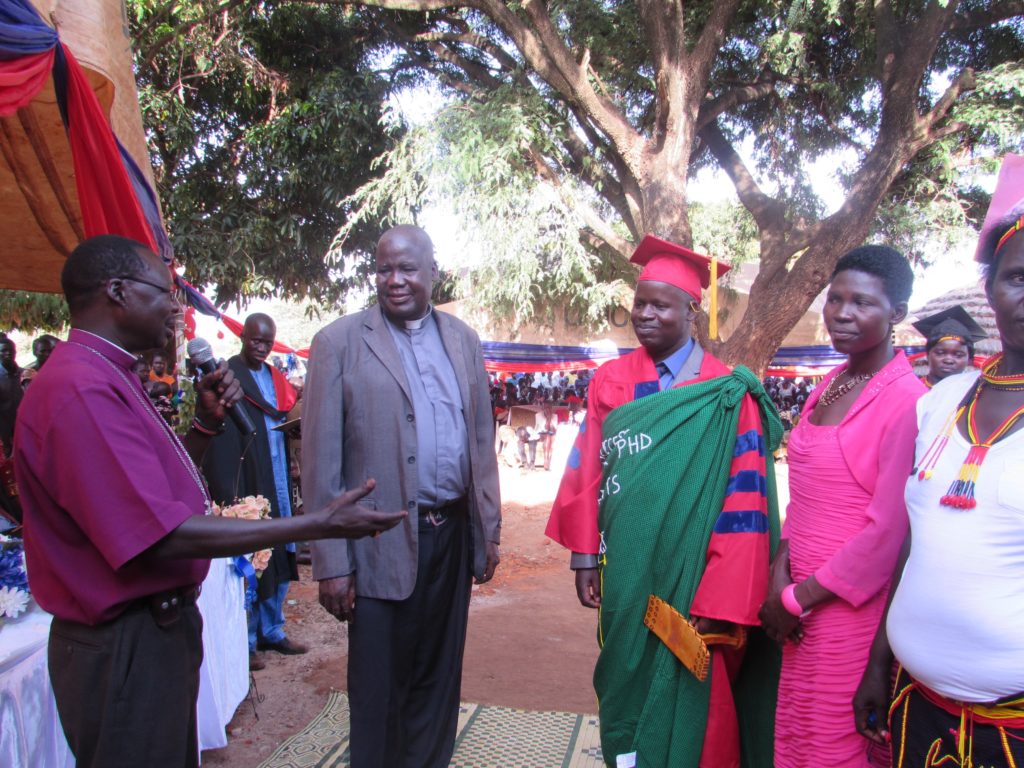 Alumnus Patrick Ojok works toward a more inclusive and accessible Africa for people with disabilities
Patrick Ojok's resume is impressive. His life's journey is extraordinary.
Ojok '15 PhD DS is head of community and disability studies at Kyambogo University, the second-largest university in Uganda. He is probably the only person in his country with a Ph.D. in his field.
A funded researcher with a long list of awards, publications and presentations in the U.S., Europe and Africa, Ojok is working to improve education and employment opportunities for people with disabilities in Africa, and speaks of running for elective office one day.
For Ojok, getting this far meant overcoming almost-impossible obstacles.
"In my village, to people who know where I came from, my story is both amazing and puzzling," he says.
Ojok is an international scholar with a bachelor's degree earned in Uganda, a master's from the University of Oslo in Norway and a Ph.D. from UIC.
But his introduction to education in his home village of Awach, was not exactly telling.
He headed off to school for the first time at age 8, shirtless and without school supplies. His uncle, embarrassed, ordered him home, and young Ojok refused to return until the next year.
"I dropped out of school the first day I went to school," he remembers.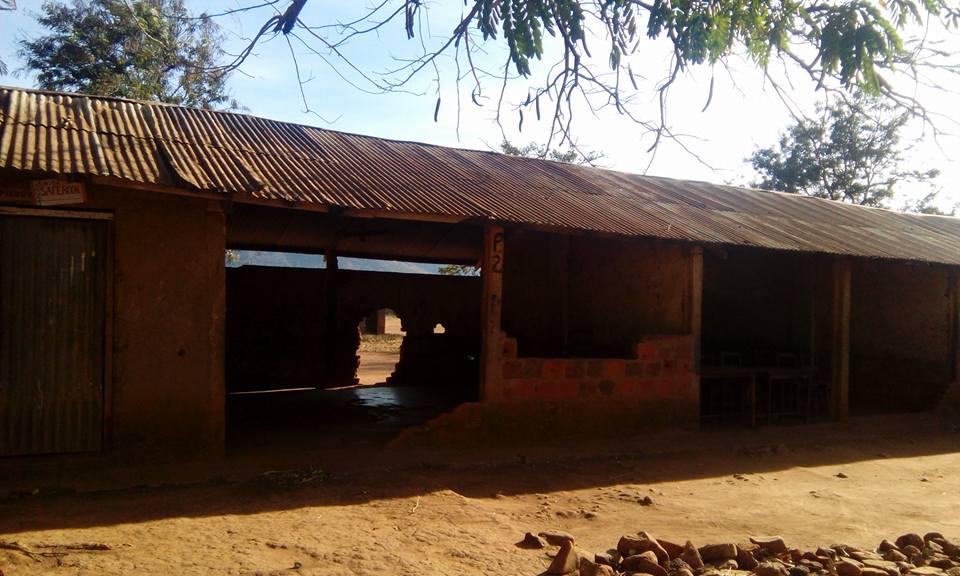 After secondary school, his education was interrupted by his mother's serious illness and death. A year later he was accepted to a teacher training college, but couldn't start classes—his previous school wouldn't release his transcript because of unpaid fees.
"Financial difficulty was the most insurmountable challenge of my educational path," he says.
He was about to give up when a relative he had never met stepped in to help. Ojok graduated at the top of his class—"a life-changing turning point," he says.
He was a primary school teacher for nine years in the Karamoja region of northeast Uganda, an area formerly wrecked by gun violence, with harsh climate and resistance to formal education, all the while he continued his own studies with the help of scholarships, earning a diploma in special needs education and a bachelor's in education at Kyambogo University. Then, with top class rankings and recommendations from university faculty, he was awarded a fellowship from Norad, a Norwegian government agency, to study at the University of Oslo.
When he returned from Norway, Kyambogo University offered him an adjunct position in the department of community and disability studies. Later his university sweetened the deal: a tenure-track faculty position, contingent on earning a Ph.D. in the field, and an offer to continue his job with pay until he returned. The salary eased worries about supporting his wife and children while he was in the U.S.
"I must thank Kyambogo University for granting me study leave with pay at a time when I was still a staff member on probation, who was not yet entitled to such a leave," he says.
With a Fulbright Junior Staff Development Award, Ojok headed to Chicago and AHS' internationally known doctoral program in disability studies.
"There is a strong culture of scholarship and intellectual engagement at DHD," Ojok says. "I was exposed to different academic and social events which helped me to know and appreciate Chicago and the U.S."
DHD faculty were immediately impressed with Ojok.
"He was really driven. He knew what he wanted to do," says DHD research assistant professor and associate director of the Institute on Disability and Human Development Randal Owen.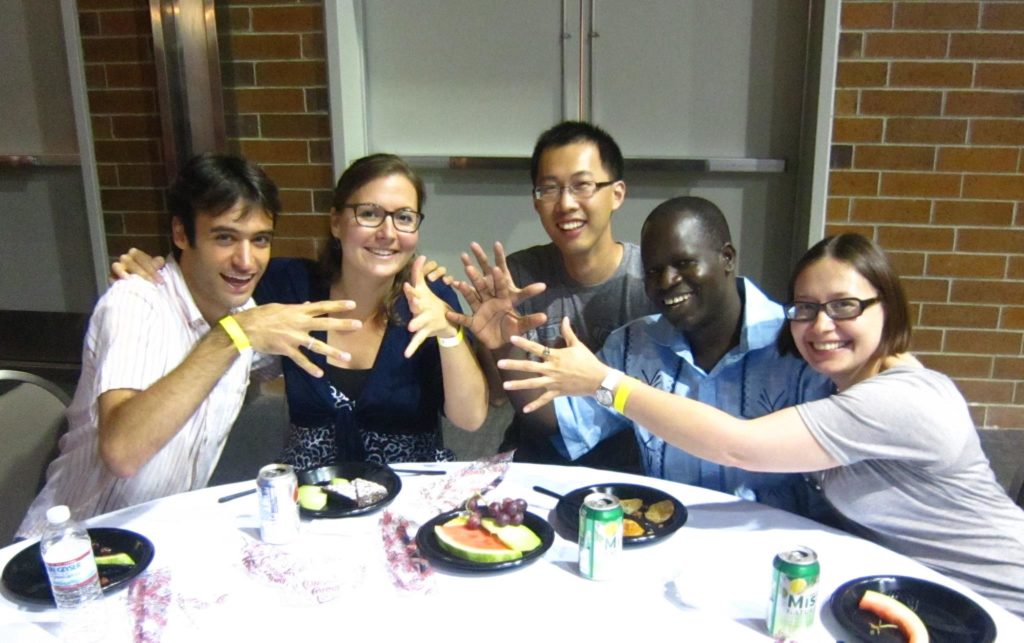 "I feel very confident he's going to make a big difference in Africa for people with disability, with his passion and intelligence and his capacity to advocate," says Tamar Heller, DHD professor and head, who was Ojok's dissertation adviser.
Ojok worked in the research lab of DHD associate professor Sarah Parker Harris, whose studies focus on employment issues for people with disabilities. He became friends and colleagues with Robert Gould, director of research in the Great Lakes ADA Center.
His research collaborations with DHD faculty have continued since he returned home. The connection also helped facilitate a recent visit to UIC by two Ugandan disability right advocates, through a fellowship funded by the U.S. State Department.
"I really loved that professors at DHD were so approachable and friendly to students," Ojok says. "I met and made lasting connections with some very wonderful and resourceful people."
Still, being away from his family was difficult.
"I can't forget the tears on my kids' faces when I sat them down to seek their consent for me to study in the U.S.," he says.
Ojok was 41 when he completed his Ph.D., and he has wasted no time since returning to his country. He is principal investigator or co-PI on three research projects, two related to education for children with disabilities, the other on self-employment for people with disabilities.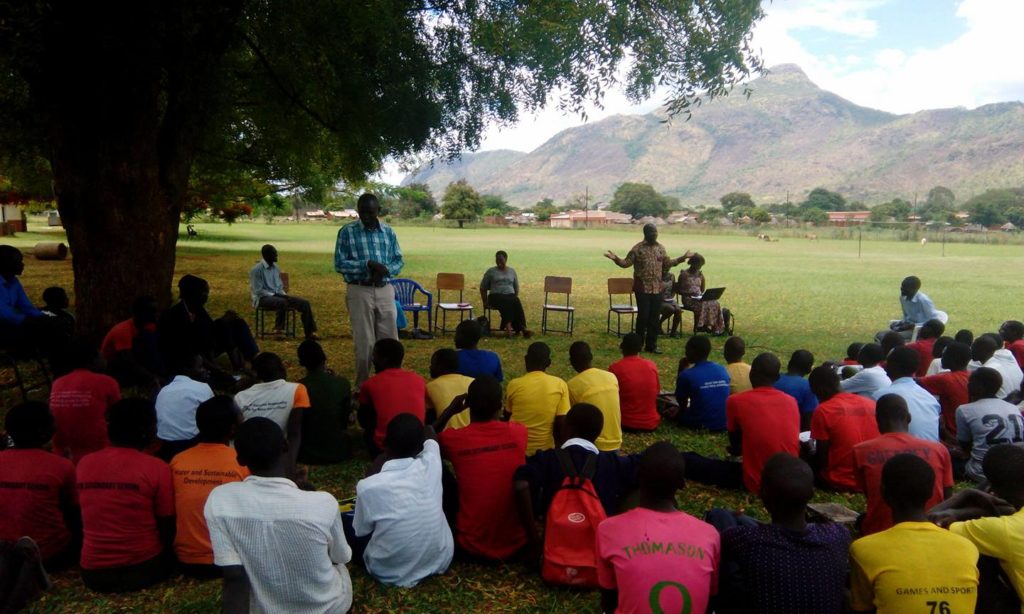 He has just received a short-term consultant appointment to the World Bank's Disability Inclusive Education in Africa Program and is a member of the advisory task force overseeing the ongoing development of a national policy on inclusive education. Ojok was also tapped by the Inter-University Council for East Africa to help develop a quality assurance policy on disability for higher education institutions in East Africa.
"Disability studies scholarship is dominantly Euro-centric and North American," Ojok says. "I want to help bring about the emergence of an Afro-centric discourse of disability, cognizant of the sociocultural and political dynamics of Africa."
Encouraging education among youth from poor and underrepresented regions is a priority for Ojok.
He led the development of his department's first graduate program, a master's in disability studies and inclusive development. The program, the first of its kind in East Africa, is expected to launch in August 2019.
"I would like to see disability studies take root in African universities by starting graduate programs, researching and publishing in the field," he says.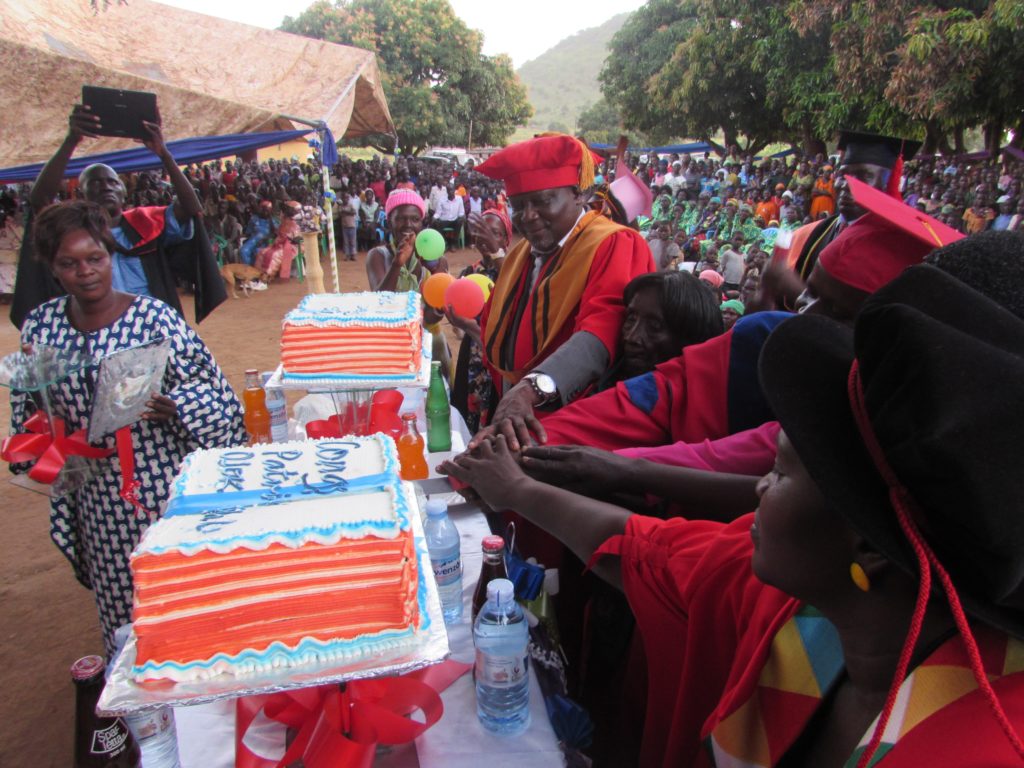 When he returned to Uganda his family held a huge party in his grandparents' compound, decorated in UIC blue and red.
"Celebrating the Ph.D. in the village was to me an imperative—to inspire the young people who are struggling with life like I did, and prove to them that it is possible to break through," Ojok says.
"I narrated my education story to the crowd and pledged to champion education in our land henceforth."
To make good on his pledge, he helped found the Awach Alumni Association, which recently donated a photocopier and generator to the village school.
He helped start another mentoring organization, Karamoja Mentoring Network, to encourage young people in an area known for its extreme poverty.
"Given my rough and long journey to education, I am passionate to inspire others to succeed like me—or even exceed the heights I climbed," Ojok says.