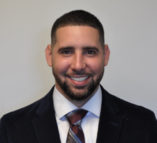 Eduardo Esteban Bustamante
Assistant Professor, Kinesiology and Nutrition
Focus Areas
Email
Office Phone
Office
1919 W. Taylor St., 626 AHSB
Office Hours
By appointment
About
Eduardo Esteban Bustamante, PhD, FACSM, holds a Bachelor of Science degree in Kinesiology from the University of Massachusetts Amherst (2006) and a Doctor of Philosophy in Kinesiology, Nutrition, and Rehabilitation from the University of Illinois Chicago (UIC) (2013). Dr. Bustamante completed a postdoctoral research fellowship at the Medical College of Georgia, Georgia Prevention Institute (2015). Dr. Bustamante's expertise lies in Exercise Psychology with an emphasis on ADHD and community-engaged intervention research. His research focuses on generating evidence-based lifestyle interventions that promote physical and mental health among Chicago families. Dr. Bustamante is an Assistant Professor of Kinesiology and Nutrition at UIC, where he is Director of the UIC Healthy Kids Lab. His intervention research has been conducted in partnership with Chicago Public Schools, Chicago Park District, and Urban Initiatives. This work has been funded by the National Institute of Mental Health, the National Institute of Minority Health and Health Disparities, the UIC Center for Health Equity Research (CHER), the UIC Chancellor's Office, and the Chicago Partnership for Health Promotion.
Selected Grants
UIC Center for Health Equity Research, Family Lifestyle Intervention for ADHD and Oppositional Defiant Disorder, Principal Investigator
Anonymous Trust, Leaders @ Play for Chicago's Youth: Professional Development toward Youth Employment, Co-Investigator
Chicago Partnership for Health Promotion, BUILT Family Lifestyle Program, Principal Investigator
National Institute of Mental Health, Physical Activity Intervention for ADHD and DBD, Principal Investigator
Publication Aggregators
Service to the Community
Nationally, I participate in a number of American College of Sports Medicine (ACSM) activities related to diversity, equity, and inclusion. Currently, I serve as a Board member of for the National American Society of Pediatric Exercise Medicine. Locally, I serve Chicago Park District and Urban Initiatives in multiple capacities; and serve as nutrition coordinator for IL LEND.
Leadership in the Profession
American College of Sports Medicine, Member, Diversity Action Committee
Urban Initiatives, Advisory Board Liaison to Staff
Illinois Leadership Education in Neurodevelopmental Disabilities, Nutrition Coordinator
National American Society for Pediatric Exercise Medicine, Member, Board of Directors
Notable Honors
2022 - Community Impact Award, Urban Initiatives
2022 - Excalibur Award for TEaching Excellence, UIC Department of Kinesiology and Nutrition
2020-2021 - Trustee, American College of Sports Medicine
2017 - Fellow, American College of Sports Medicine (ACSM)
Education
BS, Kinesiology, University of Massachusetts, Amherst Commonwealth College, Cum Laude, 2006
PhD, Kinesiology, Nutrition and Rehabilitation, University of Illinois at Chicago, 2013
Postdoctoral Research Fellowship, Pediatrics, Medical College of Georgia, 2013-2015