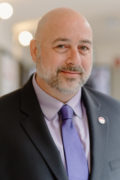 John E. Coumbe-Lilley
Clinical Professor, Kinesiology and Nutrition
Email
Office Phone
Office
901 W. Roosevelt Rd., 334 PEB
Office Hours
By appointment
Related Sites
About
Dr. John E. Coumbe-Lilley is a Clinical Professor and the Program Director for the Performance, Exercise, and Sports Psychology master's concentration. He is a Licensed Professional Counselor, Associate Licensed Marriage and Family Therapist, Certified Mental Performance Consultant and Registered Mentor. He teaches sports medicine and performance psychology courses. John is the Co-Director of the Applied Sports Psychology and Injury Research and Education Lab (ASPIRE) with Dr. Karrie Hamstra-Wright. His research focuses on emotional recovery following severe or catastrophic sports injuries. John is active in his professional communities extending regular opportunities for students to participate.
John's experience includes playing and coaching international rugby league and rugby union. Working on two Olympic Games, Pan American Games, several World Cups, and a World Championship. He has worked in Europe and North America with sports, management, medical, military, human services, and manufacturing organizations.
Service to the Community
John is the departmental contact for performance, exercise, sports psychology, sports coaching, and performance and sports organizations.
Leadership in the Profession
Association for Applied Sports Psychology, Chair, Sports injury Special Interest Group
Notable Honors
2021 - Teaching Excellence Award, Association of Applied Sports Psychology
2019 - Silver Circle Teaching Award, UIC College of Applied Health Sciences
2012, 2019 - Educator of the Year, UIC College of Applied Health Sciences
2011, 2013, 2015 - Excalibur Award for Teaching Excellence, Dept. of Kinesiology, College of Applied Health Sciences
Education
MA, Couples and Family Counseling, Northeastern Illinois University, 2021
PhD, Education Psychology, University of Illinois at Chicago, 2007
MS, Kinesiology, University of Illinois at Chicago, 2003
BA Hons, Business, Sport & Recreation Management, Manchester Metropolitan University, UK, 1996.