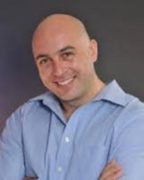 John E. Coumbe-Lilley
Clinical Associate Professor, Kinesiology and Nutrition
Email
Office Phone
Office
901 W. Roosevelt Rd., 334 PEB
Office Hours
By appointment
Related Sites
About
Dr. John E. Coumbe-Lilley, CC-AASP is Certified Consultant with the Association of Applied Sport Psychology (AASP) and Certified Strength and Conditioning Specialist (CSCS). John played and coached international rugby league and rugby union and has coached and consulted at the community, state, national and Olympic levels in the United Kingdom, Canada and the United States in a range of sports. He has worked in college and community education settings. John has operated at 1 Winter Olympic Games, 1 Pan Am., 3 World Cups and 1 World Championship. His clinical focus is sport, injury and exercise psychology and mental health. He leads a variety of experiential learning programs including study abroad and alternative spring break programs.
John was national faculty American Academy of Family Physican's Performance Enhancement Forum. He was a faculty member for a 13 county health improvement initiative in south west Michigan. John focused on leadership and cultural change and performance improvement in health organizations. Between Nov. 2015 and Dec. 2016, John co-led a rugby coach leadership program with Dr Tanya Prewitt-White for youth and adult coaches in Illinois.
Service to the Community
John serves as a volunteer sport medicine faculty member at Loyola University Chicago, Lakeshore Campus, focusing on student-athlete emotional well-being during sport injury rehabilitation. He is the NCAA Faculty Athletic Representative for UIC, advocating for student-athlete academic and personal/social welfare, assuring academic eligibility, and representing AHS and UIC at events.
Leadership in the Profession
Association of Applied Sport Psychology, Teaching Special Interest Teaching Group, Co-Chair
Notable Honors
2015, 2013, 2011 - Excalibur Award for Teaching Excellence, UIC College of Applied Health Sciences
2013 - Teaching Recognition Award, UIC Council for Excellence in Teaching and Learning
2012 - Educator of the Year, UIC College of Applied Health Sciences
2006 - Michigan Steps Up Award, Michigan Department of Community Health
Education
PhD, Education Psychology, University of Illinois at Chicago, 2007
MS, Kinesiology, University of Illinois at Chicago, 2003
BA Hons, Business, Sport & Recreation Management, Manchester Metropolitan University, UK, 1996.