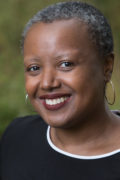 Kharma C Foucher
Associate Professor, Kinesiology and Nutrition
Focus Areas
Email
Office Phone
Office
1919 W. Taylor St., 647 AHSB
Office Hours
Monday 2-3 pm or by appointment
About
Dr. Foucher holds a BS in Engineering Sciences (Biomedical) from Harvard University and MD and PhD (Bioengineering) degrees from UIC's MD/PhD program. She has been in the Department of Kinesiology and Nutrition since 2013. She previously held faculty positions in the Department of Orthopedic Surgery at Rush University Medical Center.
Dr. Foucher's lab, the Biomechanics and Clinical Outcomes (BaCOs) Lab is dedicated to "patient-centered" biomechanics research. The BaCOs lab studies gait mechanics in hip osteoarthritis with the twin goals of understanding the mechanistic role of gait function (or dysfunction) in hip osteoarthritis, and improving outcomes in multiple domains (gait, clinical outcomes, quality of life, physical activity, etc.). Current projects include an NIH-funded study examining the impact of hip osteoarthritis-related gait impairment on walking energetics and physical activity, and ongoing work seeking modifiable factors associated with poor outcomes from total hip arthroplasty.
Dr. Foucher teaches tissue mechanics and gait mechanics courses at the undergraduate and graduate levels.
Selected Grants
National Institutes of Health/National Institue on Aging, Impact of osteoarthritis-related gait impairment on energy, fatigue, and physical activity, Principal Investigator
Applied Health Sciences Interdisciplinary Pilot Grant, Predicting mechanical and clinical outcomes of total hip arthroplasty, Principal Investigator
UIC Center for Clinical and Translational Sciences, Impact of obesity, fatigue, and strength on physical activity in people with knee OA, Principal Investigator
Publication Aggregators
Leadership in the Profession
NIH, Regular Member Musculoskeletal Rehabilitation Sciences (MRS) Study Section
Orthopaedic Research Society, Chair, Diversity, Equity, and Inclusion Committee
Notable Honors
2021 - Adele L. Boskey, PhD Award, Orthopaedic Research Society
2017 - Excellence in Clinical Science Award, Journal of Orthopaedic Research
2014 - Best in Class Poster Award, Association of American Medical Colleges, Group on Faculty Affairs
Education
MD, University of Illinois at Chicago, 2008
PhD, Bioengineering, University of Illinois at Chicago, 2006
SB, Engineering Sciences (Biomedical), Harvard University, 1996