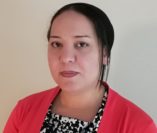 Abeer Mohamed (Mahmoud)
Assistant Professor, Kinesiology and Nutrition
Focus Areas
Email
Office Phone
Office
1919 W. Taylor St., E601 AHSB
Office Hours
By appointment
About
Dr. Abeer Mohamed is an Assistant Professor in the Department of Medicine and Department of Kinesiology and nutrition. She received her MD degree and residency training as a Pathologist from Assiut University, Egypt then served as a surgical/clinical pathologist at South Egypt Cancer Institute (2002-2008), before realizing her true passion was in biomedical research. Dr. Mohamed earned her Ph.D. in Pathology (College of Medicine, UIC, 2013) where she studied dietary chemoprevention of cancer. For her postdoctoral research (College of Applied Health Sciences, UIC, 2013-2017), she studied physiological and molecular outcomes of lifestyle interventions in obese and diabetic individuals. She is currently funded by the NIH to study the underlying epigenetic mechanisms of obesity-associated vascular dysfunction and the cross-talk between adipose tissue and endothelial cells under various pathological conditions. Dr. Mohamed also investigates the impact of weight loss and lifestyle interventions on a variety of metabolic and vascular aspects at the clinical and molecular levels utilizing innovative imaging techniques and integrated omics.
Selected Grants
R01HL161386 National Institute of Health (NIH), National Heart, Lung, and Blood Institute (NHLBI), Role of Adiposomes in Diabetes-Associated Endothelial Dysfunction and Restorative Effects of Exercise and Metabolic Surgery, Principle Investigator
R00HL140049 National Institute of Health (NIH), National Heart, Lung, and Blood Institute (NHLBI), DNA Methylation and Vascular Function in Obesity: Role of Exercise and Weight Los, Principle Investigator
CACHET pilot (ChicAgo Center for Health and EnvironmenT), The role of microRNA deregulation as the mechanism of cadmium-induced atherosclerosis, Principle Investigator
IllNET RECOVER pilot, Asymmetric-dimethylarginine as a potential mediator of cardiovascular PASC, Principle Investigator
Selected Publications
"Development of a Definition of Postacute Sequelae of SARS-CoV-2 Infection. ", JAMA. 2023 May 25;e238823
"DNA Hypomethylation As a Potential Link Between Excessive Alcohol Intake and Cardiometabolic Dysfunction in Morbidly Obese Adults. ", Biomedicines 2022, 10(8), 1954.
"Effects of exercise mode on improving cardiovascular function and cardiorespiratory fitness after bariatric surgery: A narrative review. ", Am J Phys Med Rehabil. 2022 Nov 1;101(11):1056-1065.
"DNA Methylation Profile of Genes Involved in Inflammation and Autoimmunity Correlates with Vascular Function in Morbidly Obese Adults. ", Epigenetics, 2021 Jan 25:1-17
Publication Aggregators
Notable Honors
2022 - Oral Award for the Midwest Clinical and Translational Research Meeting,
2021 - Chicago Diabetes and Obesity Day Short Talk Award,
2021 - Chancellor's COVID Impact Research Award,
2020 - Emerging Investigator Award,
Education
Certificate in Bioinformatics, Department of Bioengineering, University of Illinois at Chicago, 2019
Ph.D., Pathology, the University of Illinois at Chicago, USA, 2013
Board Certification and M.Sc., Pathology, South Egypt Cancer Institute, Egypt, 2006
MD, Assiut University, Egypt, 2000