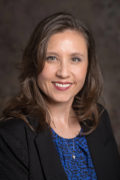 Tina Schmidt-McNulty
Visiting Clinical Instructor, Kinesiology and Nutrition
Email
Office Phone
Office
901 W. Roosevelt Rd., 341 PEB
Office Hours
By appointment
About
Tina Schmidt-McNulty, MS, ACSM-CEP, RN is a full-time visiting clinical instructor in the Department of Kinesiology and Nutrition. She compliments her degrees with numerous certifications in the fitness industry in personal training, aquatic instruction and group fitness instruction. She recently has played a significant role in the development of the Medical Fitness Specialist Certificate Program Alzheimer's Disease Prevention and Intervention: A Guide to Working with Seniors and People at Risk and the Breast Cancer Recovery and Prevention Specialist and Certificate Program with Fitness Learning Systems.
Schmidt-McNulty has been in the Fitness Industry for over 20 years as a presenter, author and instructor. She has written/published several articles on topics such as gravity vs. buoyancy, cancer and exercise, metabolic syndrome, diabetes and cardiovascular risk factors. She also has had several roles promoting fitness/wellness programs in corporate, hospital and university settings. Schmidt-McNulty was on the academic team to develop/initiate the Fitness Management Degree program at what is now Purdue University Northwest in 1999.
Service to the Community
* 5/2/17 Volunteer Dare2tri event - Assisted Disabled Veterans training for swim portion for a local triathlon. * 6/20/17 - Nursing Camp - Educated high school students on taking vital signs, blood pressures and the nursing process.
Leadership in the Profession
Tivity Health - Silver Sneakers Program, Instructor Coordinator for Northwest Indiana
Munster Swim Club, Assistant Swim Coach for Age Group Swimmers
Greater Chicago Chapter of Arthritis Foundation, Instructor, trainer and volunteer
Notable Honors
2011 - present - Registered Nurse, State of Indiana
2011-Present - Registered Nurse, State of Illinois
2017 - Certificate in Adult Heart Rhythms, American Heart Association
Education
BS, Nursing, Purdue University, 2010
MS, Clinical Exercise Physiology, Indiana University, 1996
BS, Exercise Science; minor in Psychology, Indiana University, 1994