A team to "beet"
Tuesday, January 24, 2017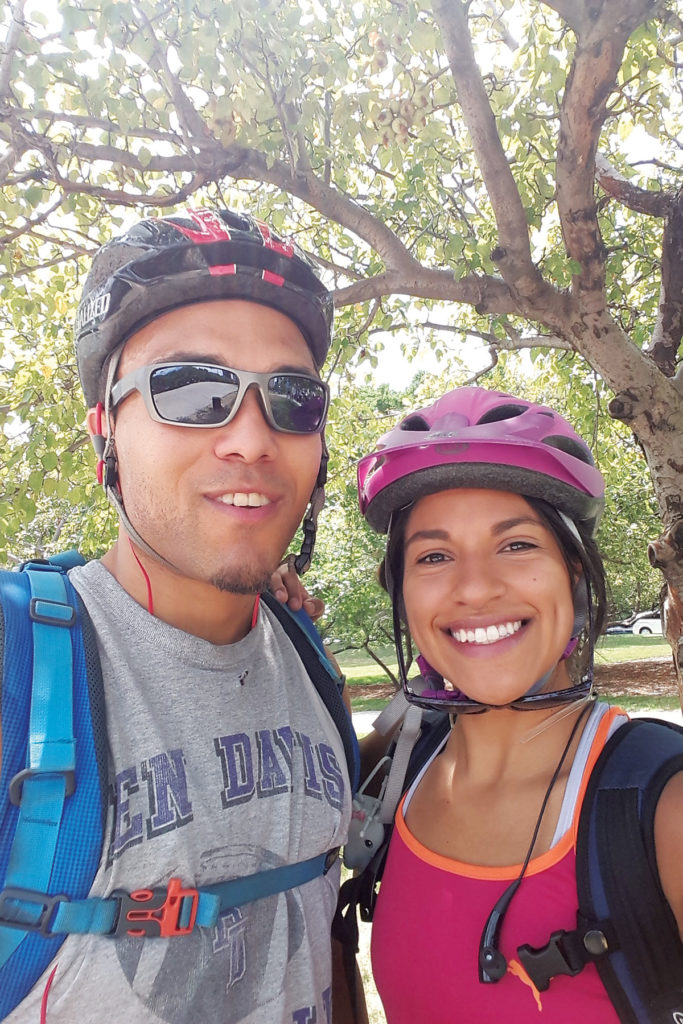 With an unbeatable recipe put together by two UIC graduates, eating healthy never tasted so good.
That's because Sofia Sanchez and Austin Robinson are on a mission: to make quality, nutritional snacks — packed with the health benefits of protein, fiber, beets and other organic ingredients — that taste more like desserts.
They came up with the idea to help themselves, but now they want to help others step into healthy living.
"[Sofia and I] always come up with new challenges and training goals," said Robinson, a gym enthusiast who earned his master's degree in applied exercise physiology and Ph.D. in rehabilitation sciences from UIC. Sanchez is a powerlifter and alumna of UIC's Liautaud Graduate School of Business. She's done nutrition counseling for the U.S. Women's Rugby team and consulting for the Detroit Tigers.
"We had been lifting weights, trying to get as strong as possible, and then we both agreed, 'Hey, we can probably stand to lose a few pounds, just for our health, to see if we can look better and to reduce our body fat percentage," Robinson said.
So they ate protein bars, a nice break from vegetables and rice, to reduce the amount of calories they consumed throughout the day, "but we also recognized that the bars we were eating probably weren't the highest quality of food," said Robinson, now a postdoctoral fellow at the University of Delaware.
So he and Sanchez, a registered dietitian nutritionist, brainstormed, experimented and brought the benefits of beets to the table.
"I was reading these studies about beetroot juice and dietary nitrate," said Robinson, recalling the time he spent at UIC as a research assistant. As a teenager, he was "really overweight." At the age of 14, he developed high blood pressure but managed to get his health in check by focusing on cardiovascular exercise and eating a highly plant-based diet. By the time he finished his undergraduate degree in exercise science, he had lost the weight and the high blood pressure diagnosis, too.
"I was like, 'Oh, OK, this is probably the mechanism that allowed me to get rid of high blood pressure," he said.
Beetroot contains nitrates that, once inside of the body, are converted into a compound called nitric oxide, Sanchez explained. The compound causes blood vessels to dilate, increasing blood flow and lowering blood pressure. The superfood is also linked to enhancing athletic performance, slowing age-related dementia, improving digestion and decreasing the risk of obesity, heart disease and diabetes.
So with beetroot's high levels of nutrients, vitamins and minerals, the partners decided to create beet-infused bars by adding beetroot in its powder form provided by a licensed physician.
"It meets a specific standard," said Sanchez, who also graduated from UIC's undergraduate nutrition science program. "It's like the Beyoncé of beetroot powders."
Protein powder, without any artificial sweeteners or added fillers, and a fiber-based syrup from tapioca starch are other main ingredients of their recipes. The bars are free of gluten, grain and GMOs. The amount of protein and fiber in each bar ranges from 13 to 22 grams.
Putting them together "took a few months," said Sanchez. "But it was fun because we got to eat a lot of experiments for sure. We're still working on it."
The team launched Beet Strong, a collaboration that made Sanchez apply what she had learned in her business classes to begin branding and selling bars last spring.
Flavors currently available include peanut butter and jelly, dark chocolate almond, vanilla espresso and pumpkin spice walnut.
"Their passion for making beet strong a reality was visceral," said Nancy Harvey, executive director of the Institute for Entrepreneurial Studies. Harvey met the team through the UIC Startup Challenge, a live pitch competition where individuals present products to a panel of judges. Beet Strong placed second in the 2016 challenge.
"It wasn't just a passion for making something happen, but a real market that would benefit from it," Harvey said. "That was a terrific, standout attribute for this startup: a strong passion, but rationale in the marketplace and a complementary team."
Harvey helped them fine tune their messaging, focus their story and find their own strengths.
"Working with her was really our game changer from 'cool idea' to 'Hey, we actually have a chance!" Sanchez said.
Beet Strong is based largely online. The team would like to get their products into fitness centers, gyms or stores that sell wholesome products like Whole Foods.
"They can really have enormous impact," Harvey said.
"Austin understands the health science and he cares deeply about having impacts for reasons that motivate him strongly, and Sofia is working very hard to understand the business side of it and how to make that work.
"By bringing together a team that has all of the talents you need, you can take a product to market to change the lives of people on the planet, and that's a great goal, that's a huge ambition, and having an interdisciplinary, multidisciplinary team, in my mind, I don't really know of any other way of making it happen. I think they have a shot."