David Marquez leads $500,000 Prevention Research Center Special Interests Projects grant study
Tuesday, December 6, 2022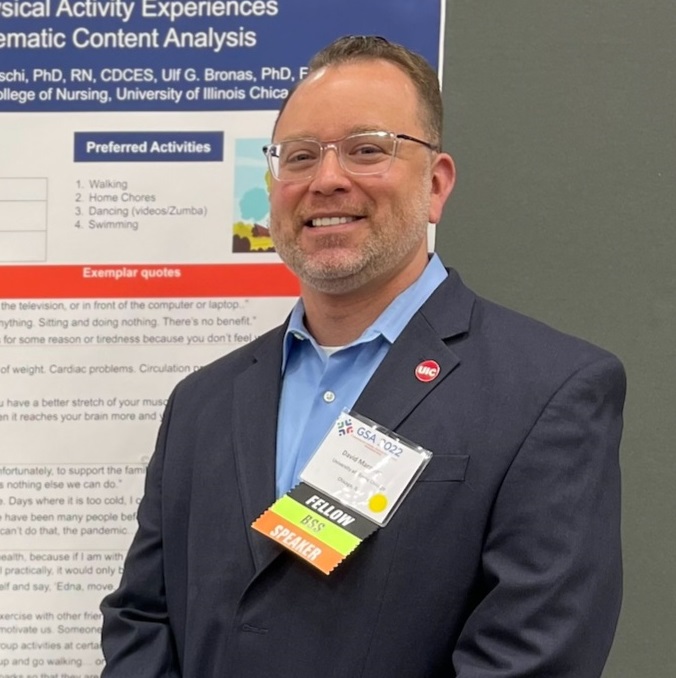 For more than 15 years, kinesiology professor David X. Marquez has conducted research on the effectiveness of regular physical activity in maintaining health and cognitive function for older adults, particularly Latines.
Marquez has found that older Latines are less likely to pursue leisure-time physical activities than older non-Latine whites. Walking and dancing are the physical activities older Latines say they enjoy most, but they are often discouraged from walking by the weather and the urban environment.
To promote physical activities among older Latines, Marquez co-developed a Spanish-language program with Miguel Mendez, BAILAMOS (Balance and Activity In Latinos, Addressing Mobility in Older Adults), that uses Latin dance as a way to be active.
"Dancing is a highly relevant cultural activity that many Latinos have done in their lives, whether it's family parties or going clubbing back in the day," said Marquez, director of the Exercise Psychology Laboratory. But, "for many older Latinos, it's just not available now for the most part."
In an earlier study, Marquez found that participants who attended Latin dance classes conducted through BAILAMOS showed improvements in mobility, quality of life, enjoyment of physical activity and cognition.
Now, in new research funded by a two-year, $500,000 grant from the National Center for Chronic Disease Prevention & Health Promotion, Marquez will study the effectiveness of BAILAMOS and another program, Fit and Strong!, in improving memory and cognition for Latines age 65 and older.
Fit and Strong!, a nearly 20-year exercise program developed by public health professor Susan Hughes, has already proven effective in improving mobility for older adults with arthritis.
The new study, which will compare the two programs, is aimed at older Latines who report memory or cognition concerns—mild cognitive impairment—but not dementia.
Latines have a greater risk of developing chronic conditions such as cardiovascular disease that also put them at greater risk for Alzheimer's Disease and related dementias, explained Marquez, visiting associate professor at the Rush University Alzheimer's Disease Center.
"We want to learn if these two programs can positively influence cognitive function."
BAILAMOS is led by a professional dance instructor; a certified exercise instructor leads Fit and Strong! The study will include 100 participants. Each program will be offered virtually, with the live sessions recorded for on-demand viewing.
Another goal for the study is to determine the feasibility of online programs for this population group.
"Hopefully we can have greater reach and greater adherence to the program, because it will be available to people almost no matter where they are," Marquez said.
Participants will be provided tablets if needed. Besides the challenge of connecting with the technology, however, there's the challenge of finding the most effective ways to connect online on a personal level.
"We need to figure out group cohesion, ways for participants to get to know each other up front, to find different ways to reach people," Marquez said.
Funding for the study comes from the Dementia Risk Reduction Research Network, administered under the UIC Policy Practice and Prevention Research Center.