Healthy habits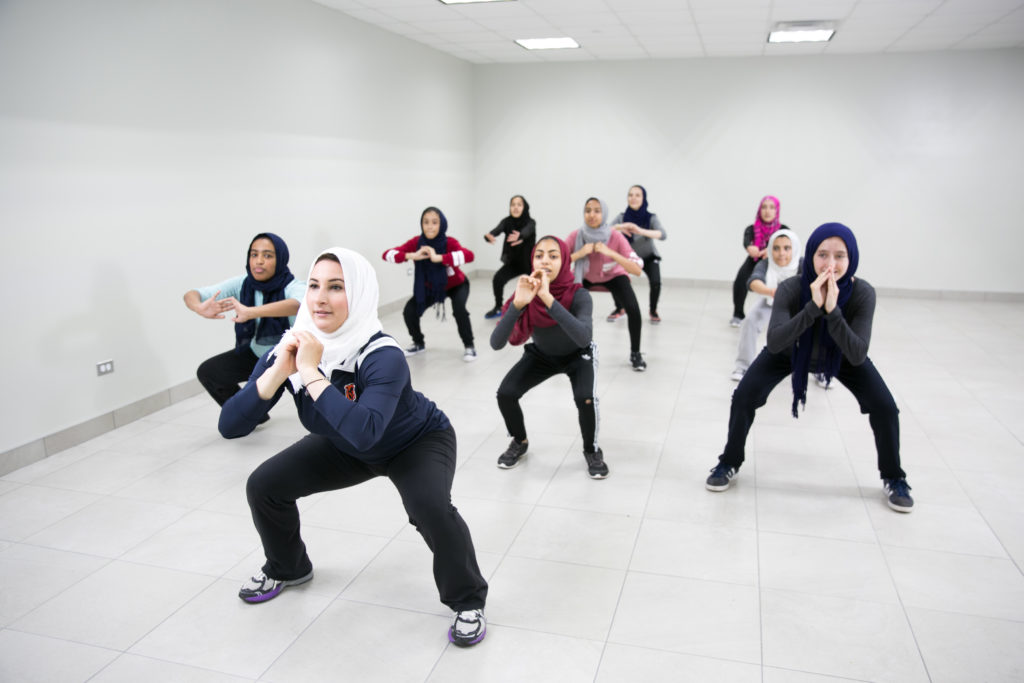 Rhonda Atallah '15 BS KINES was on the softball, volleyball, basketball and track teams at Stagg High School in Palos Hills, Ill., but she didn't think much about the mechanics of her body until she suffered a season-ending injury.
"Thanks to physical therapy, I was exposed to how the muscles work and how they can heal themselves," she recalls. "I found it fascinating that I was able to put my toe back on the floor after a week, and another week after that, I could put my heel down."
Atallah started researching anatomy and physiology in her free time. Before long, she decided that she wanted to pursue a career in physical therapy.
Today, that remains Atallah's goal, but she has taken a fruitful detour on her journey. She became an educator and coach, teaching science, health and physical education to girls at two Islamic schools.
After graduating from UIC, Atallah accepted a teaching position at Aqsa School, an all-girls Islamic academy in Bridgeview, Ill. Atallah taught physical education to sixth- through twelfth-grade students, as well as anatomy and physiology to tenth-, eleventh- and twelfth-grade students, during the 2015-16 school year. She also coached volleyball and basketball.
Having been a successful student at UIC, Atallah assumed she wouldn't have too much difficulty transitioning to the front of the classroom. So she was surprised to discover the learning curve was a bit steep.
"At first, I didn't really understand that learning the material is different from teaching the material," she explains. "When you're teaching the material, you have to get through to many different minds, not all of whom process information in the same way."
But each time a student posed a question or expressed confusion, Atallah found herself gleaning something new from the subject.
"They made me rethink things, which was amazing, because I was able to learn anatomy again from a whole new point of view," she says.
The reality was that Atallah's students hadn't previously been exposed to such a detailed course in anatomy and physiology. They were accustomed to reading a textbook and answering a few questions at the end of each chapter. In contrast, Atallah modeled her classroom instruction on her UIC courses. In particular, she wanted her students to understand the practical implications of the material, so she focused on the applied health angle.
Luckily, Atallah's students were very curious and eager to learn. Of course, they were also teenage girls, which meant certain topics led to giggles. Atallah remembers adopting a sympathetic but stern tone during the units on female and male reproductive health: "I told them, 'Listen, if you want to learn about it, let's learn about it. Let's make this a serious class.'"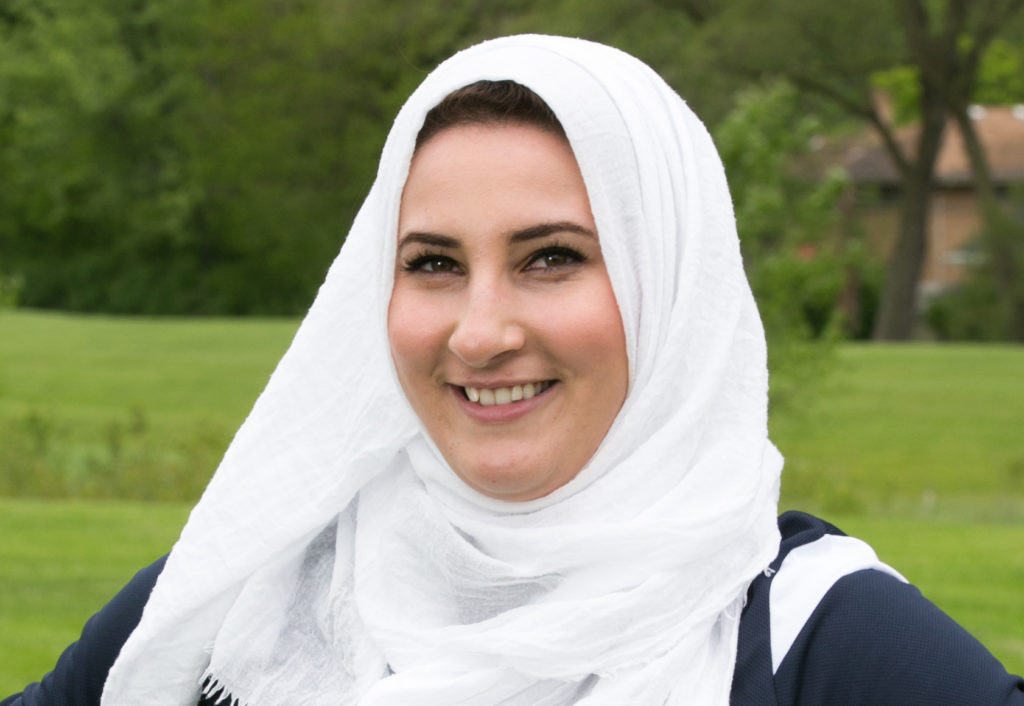 Weight loss was another popular topic of conversation. Atallah addressed this in her physical education classes by providing healthy, evidence-based guidance. She introduced different types of exercise programs depending on the student's end goal, whether it was improved endurance, increased muscle mass or something else altogether.
"Once we broke it down into individual categories of achievement, the students were able to see the connections between the activities and their bodies," Atallah says. "No matter your age, you need to understand your body."
Atallah often had to improvise. Instead of a gym, the Aqsa School had a multipurpose room with a low ceiling. While it wasn't a great space for organized sports, it could be used for circuit training, which Atallah had learned how to do in her UIC courses. Atallah's students became well acquainted with planks, jump squats, flutter kicks and sprints.
Her skill with the students didn't go unnoticed. The athletic director at the Islamic Foundation School (IFS) in Villa Park, Ill., recruited Atallah after observing her coach at a few volleyball games. During the 2016-17 school year, Atallah taught ninth grade health, as well as physical education for sixth- through twelfth-graders, at IFS.
IFS is a coed school, but Atallah only teaches female students. This gender separation extends to the volleyball games Atallah coaches. No male students are allowed, and all of the referees are women. Atallah explains that this religion-based mandate creates a more comfortable environment for the student athletes, who don't have to worry if their uniforms are riding up while getting physical on the court.
Atallah notes that the modesty requirements followed by many Islamic women are not a reflection of oppression or inequity.
"In Islam, we believe that men and women are equal," she says. "I want the girls to understand that through athletics and physical education, they can do anything the guys can do."
Consequently, Atallah makes sure to expose her students to the weight room.
"I want them to handle dumbbells; I want them to know what it's like to sit on the bench press," she explains. "When they get out in the real world and go to a gym, I hope they're empowered, even if the majority of the gym population is male."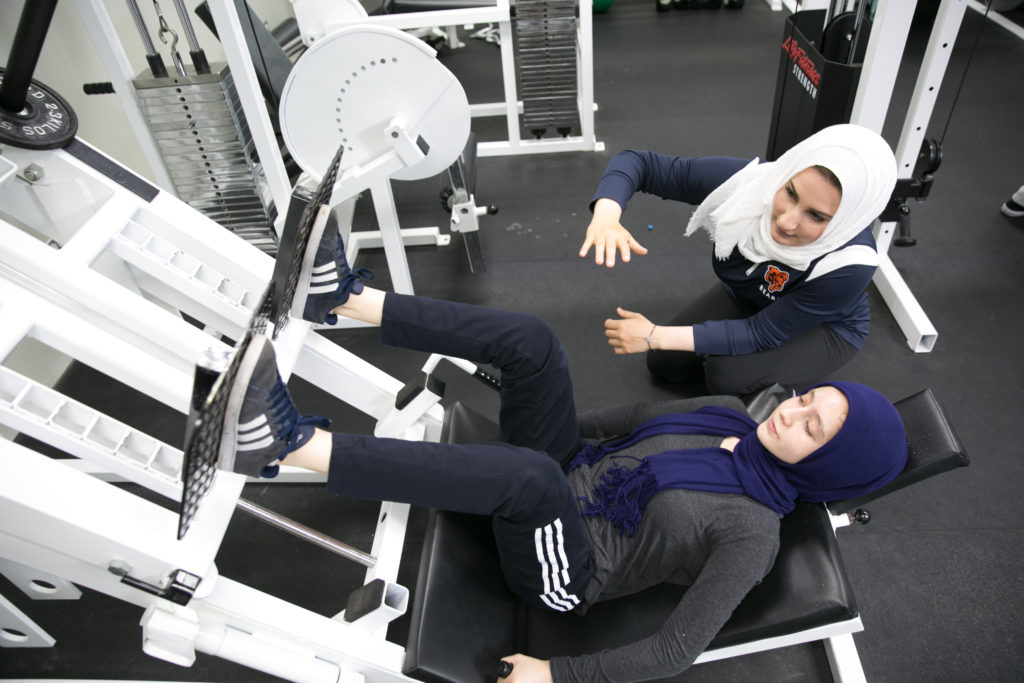 Atallah knows that Islam is often misunderstood in the general population. Rather than lament this fact, she prefers to take action. When she worked as an undergraduate teaching assistant at UIC, there was a group of female Muslim students who were unable to enter the water during the swimming unit because it was a coed class. If they went in, their clothing would cling to their bodies in a way that wasn't religiously appropriate. When Atallah saw what was happening, she volunteered to teach the students during a special 6 a.m. class.
"They took off their head scarves and wore whatever they wanted to, and they were just really excited to be there," Atallah remembers. She told them, "There's always a way to stick with your religious beliefs and still make them work in the 21st century."
That philosophy provides a useful foundation for Atallah's curriculum. She's found ways to connect her students' religious beliefs to what she's teaching in the classroom. For example, Atallah draws on Islam's emphasis on cleanliness when she's helping her students understand changes in their developing bodies.
"Cleanliness has been instilled in us since we were kids," Atallah says. "We are required to wash our bodies five times a day, each time we pray."
For teenage girls, this ritual can take on new meaning.
"They're going through a lot with their bodies, and new odors are coming out," Atallah asserts. "I help them understand why that's happening and how taking care of your body can be both an issue of hygiene and a religious act."
Some subjects that are taboo at home are fair game in the classroom. Atallah has never had any pushback from parents about teaching reproductive health. In fact, she shares her syllabus with parents at the beginning of the school year so there aren't any surprises.
"The parents are actually relying on me to teach this material," Atallah explains. "Culturally, it's not a topic you usually talk to your parents about."
Nutrition, on the other hand, is an area where Atallah hopes her students can make strides at home. Many of her students bring delicious homemade meals for lunch, but they aren't always balanced. They tend to be heavy on carbohydrates and lacking in protein. Plus, Atallah says the portion sizes are often too large.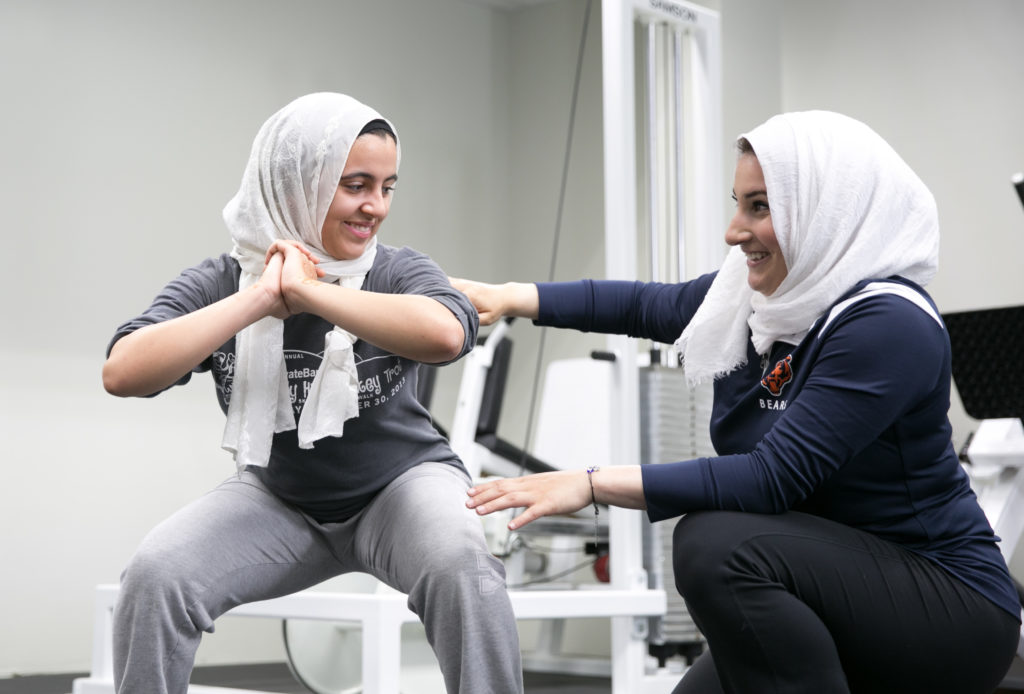 She's already looking ahead to these young women's futures, thinking about the days when they'll be cooking for themselves in college and beyond.
"I draw on my UIC courses, where we learned the important roles that health, exercise and nutrition play in preventing many diseases," she shares. "Instead of focusing on treating Type 2 diabetes, let's figure out how to prevent it from happening in the first place."
Those UIC courses were always a thrill for Atallah. As soon as she took her first kinesiology course in the College of Applied Health Sciences, Atallah knew she had found her home away from home. She quickly learned that sitting in the front of the classroom and taking advantage of professors' office hours made her large university feel small.
"I was able to make that experience what I wanted it to be," she recalls. "I wanted to be there; I wanted to listen and learn."