John Coumbe-Lilley aims to build relationships across campus
Tuesday, February 28, 2017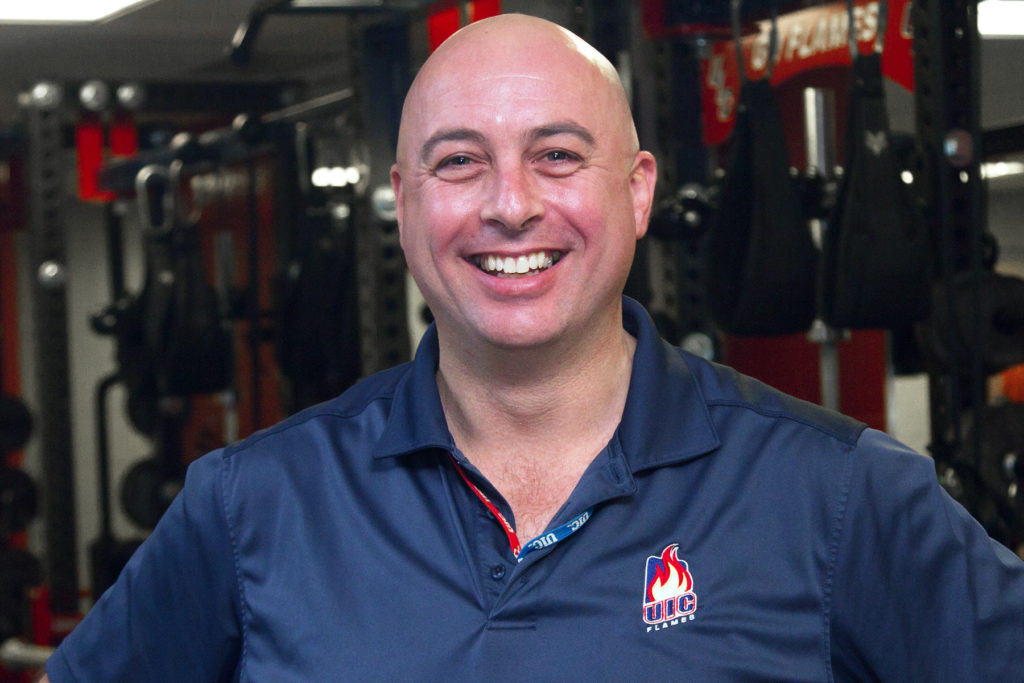 John Coumbe-Lilley knows what it's like to be a student-athlete.
He's been involved in organized sports since he was 9 years old and has competed at the pro level — including playing for the Scotland Rugby League Team and semipro soccer in the U.K. He's coached national rugby teams in the U.S. and U.K., was a mental skills coach for the Women's Rugby World Cup and a mental skills consultant to the U.S. curling team at the 2010 Vancouver Olympics, among other coaching positions. "I will bring those experiences to bear working with UIC student-athletes," he said. "I've been through what they've been through."
As UIC's faculty athletic representative, Coumbe-Lilley provides oversight to ensure the academic integrity of intercollegiate athletics, increases visibility of Flames athletics programs and enhances the student-athlete experience. He will serve as a member of the Chancellor's Athletic Advisory Committee and liaison to the Student Athletic Advisory Committee. He's also a clinical associate professor in kinesiology and nutrition in the College of Applied Health Sciences.
First on his list is to learn as much as possible about UIC's broad athletics portfolio. UIC has 330 student-athletes and 20 sports teams, with two or three coaches leading most teams.
"I want to build relationships all over campus," he said.
He also wants to ensure that student-athletes have access to the resources they need to be successful. He plans to work closely with academic support services available to student-athletes in the Port Academic Center — the primary study center for our student-athletes — in the Physical Education Building.
"I want to maximize the opportunities for the student-athletes to accomplish what they're going to do in the classroom and in their sport," he said. "I want to leave no stone unturned in identifying the necessary steps to ensure graduation and that every student is leaving with the skills necessary for the workforce and for graduate school."
For student-athletes, the academic rigors of college are even more challenging because of their busy schedules, which usually involve starting their days at 5:30 a.m. to train, then going to class and staying out late for games or other practices.
"The level of self-management for student-athletes is extraordinarily high," Coumbe-Lilley said. "They have to stay focused throughout their long day, they have to have good nutrition and get enough sleep. Their weekends are given to their sport and their studying. The physical and lifestyle demands are extreme, but balancing these demands and actually enjoying their life at UIC is very important."
Coumbe-Lilley received his master's in sports psychology from UIC in 2002 and his Ph.D. in education philosophy in 2007. He received a bachelor of arts with honors in business, sports and recreation management from Manchester Metropolitan University, U.K.
He teaches courses at UIC focused on sports health, injury and recovery.
"I regard myself as an accidental academic," he said.
While serving in his new role, he will continue to teach a full course load in kinesiology and nutrition, while also engaging in research projects and writing a book.
"I'm very student-oriented," he said. "I love the classroom interaction."