KN researchers find that oxidative stress effects blacks and whites differently
Wednesday, January 31, 2018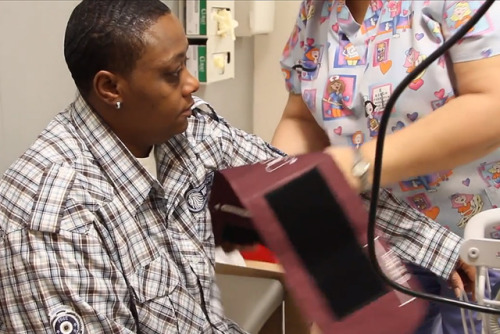 Black men and women have a higher prevalence of high blood pressure, compared with whites. Researchers believe this may be a result of high levels of oxidative stress, which leads to vascular dysfunction. However, no one really understands how aging impacts oxidative stress or vascular function in a racially diverse population.
To learn more about this, researchers from the University of Illinois at Chicago studied nearly 100 black and white individuals. The volunteer study participants reported to the UIC Integrative Physiology Lab on two occasions. During the first visit, they underwent baseline testing and received either a concentrated dose of antioxidants or a placebo. The antioxidant was used because it has been shown to decrease levels of oxidative stress in the body.
Two days later, during a second visit, researchers noted biometric information – height, weight, BMI and body composition – and conducted various blood pressure tests and a blood draw to measure blood vessel function, exercise blood flow, and biomarkers of oxidative stress and antioxidant activity.
They found black and white participants responded differently to the antioxidant, and that those differences amplified further when analyzed by age.
The antioxidant supplement decreased microvascular function in whites, but increased function in blacks.
"This study demonstrates differential responses to [antioxidant] supplementation between African-Americans and whites within both young and older age groups, as well as different responses to aging between races," the researchers report in the Journal of Hypertension.
The small blood vessels of older blacks did not respond to the antioxidant as well as younger blacks. There was no effect of the antioxidant on large blood vessels of young or older groups suggesting that the small blood vessels may represent a target for antioxidant treatments in young populations at risk for cardiovascular disease.
"This may suggest there is an optimal window of opportunity to improve vascular function in African American adults when they are young and before they acquire further risk factors for cardiovascular disease," said Shane Phillips, one of the authors of the study.
"After a certain age, the capacity to respond to treatment seems to be reduced," said Phillips, professor and associate head of physical therapy in the UIC College of Applied Health Sciences. "This may provide further evidence that health care providers account for the physiological differences that contribute to CV risk in preventive care and in treatment strategies, particularly in young black men and women."