Undergrads focus work on Latina breast cancer survivors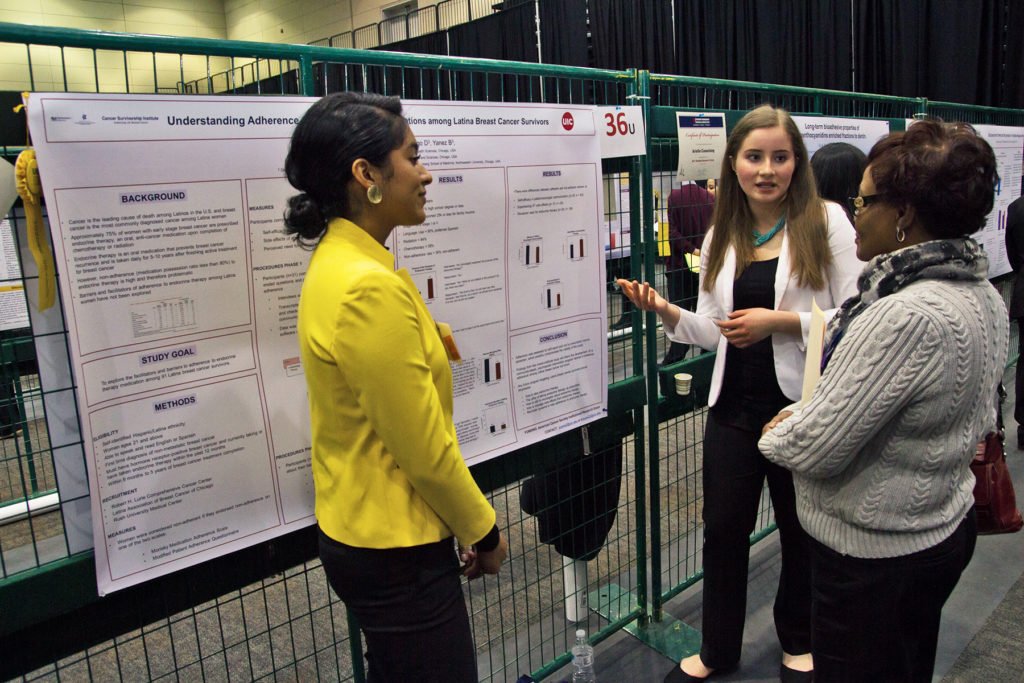 When Karina Reyes began her research on Latina breast cancer survivors' adherence to anticancer medication, she thought about herself and her mom.
"I could relate," said Reyes, a junior in LAS.
She looked over at her research partner, Jackelyn Cantoral, a kinesiology student, before adding that they are both Latinas. "It hit home for me," she said.
Their research focuses on Hispanic women diagnosed with early stage breast cancer. Their research subjects, who had already undergone active treatments such as chemotherapy, surgery or radiation, were prescribed an oral anti-cancer medication known as endocrine — or hormonal — therapy.
"The medicine is supposed to prevent the cancer from coming back and keep them from dying," said Reyes, a neuroscience major.
Research has found that in patients diagnosed with early breast cancer, treatment reduced recurrence within a five-year timeframe by 40 percent and mortality by one-third.
But minority populations report poorer outcomes after being diagnosed, and even after being treated for breast cancer. According to the American Cancer Society, the disease is still the leading cause of cancer-related death among Latina women.
Reyes and Cantoral worked on two projects to improve Latina women's breast cancer outcomes.
Data suggests that low medication adherence among non-white minorities could be one reason for the poorer outcomes, so the pair started asking questions for an initial study.
"What are some of the barriers to adherence? Why aren't they taking their medication? What things help them take their medication?" Reyes said.
After screening study participants — recruited from the Robert H. Lurie Comprehensive Cancer Center, the Latina Association of Breast Cancer in Chicago and Rush University Medical Center — the students asked women open-ended questions in separate hour-long interviews and transcribed their answers.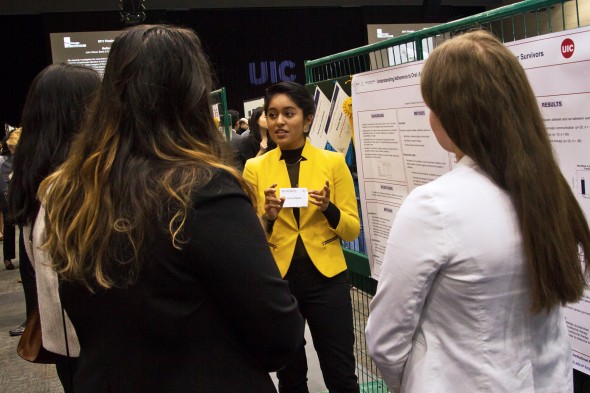 The results were used to create questionnaires that were implemented in the second part of the study, which gathered quantitative information from more women about themes of nonadherence.
The students found that Latina breast cancer survivors were unsure of the medication's purpose and how it worked.
"Negative side effects didn't really encourage them to take the endocrine therapy, either," said Cantoral, a junior in the College of Applied Health Sciences.
"Women would be like, 'It feels terrible, so I'm just going to stop taking the medicine in general,' not knowing that they were risking something much larger than just them feeling hot flashes or joint pain," Reyes said.
There were many cultural factors, too. Faith and family motivated patients to follow through with medication regimens. Ineffective communication between doctors and patients, sometimes because of language barriers, presented a barrier. Other themes were costs of treatment, lack of insurance coverage and transportation issues.
The results are informing a larger pilot study that's using a mobile-based application as an interventional tool for breast cancer survivors. The app, called Mi Guía or My Guide, is linguistically and culturally tailored to serve Hispanic women completing active treatment for breast cancer by improving symptoms and quality of life. Research teams are about halfway done with the feasibility trial of the electronic tool. An improved version and larger test run will follow.
Contributions on all fronts have been helpful for the app's advancement.
"I think that team science is always important," said Joanna Buscemi, an adjunct faculty member with the UIC Institute for Health Research and Policy.
As a clinical psychologist, she hopes to help women participating in the pilot project use the app regularly.
"I have the behavioral intervention or evidence-based intervention expertise," she said, adding that students keep the lab running.
Collaborator Betina Yanez, an assistant professor from Northwestern University, has extensive experience working with Latina women, and associate professor Alejandra Perez-Tamayo, who is also participating in the project, is a board-certified surgeon at the University of Illinois Hospital and Health Sciences System.
"If we were not all working together, there would be a really important piece missing," Yanez said.
Research was funded in part by the American Cancer Society and the Chicago Cancer Equity Collaborative.