Marie Lynn Miranda named chancellor of the University of Illinois Chicago
Tuesday, November 29, 2022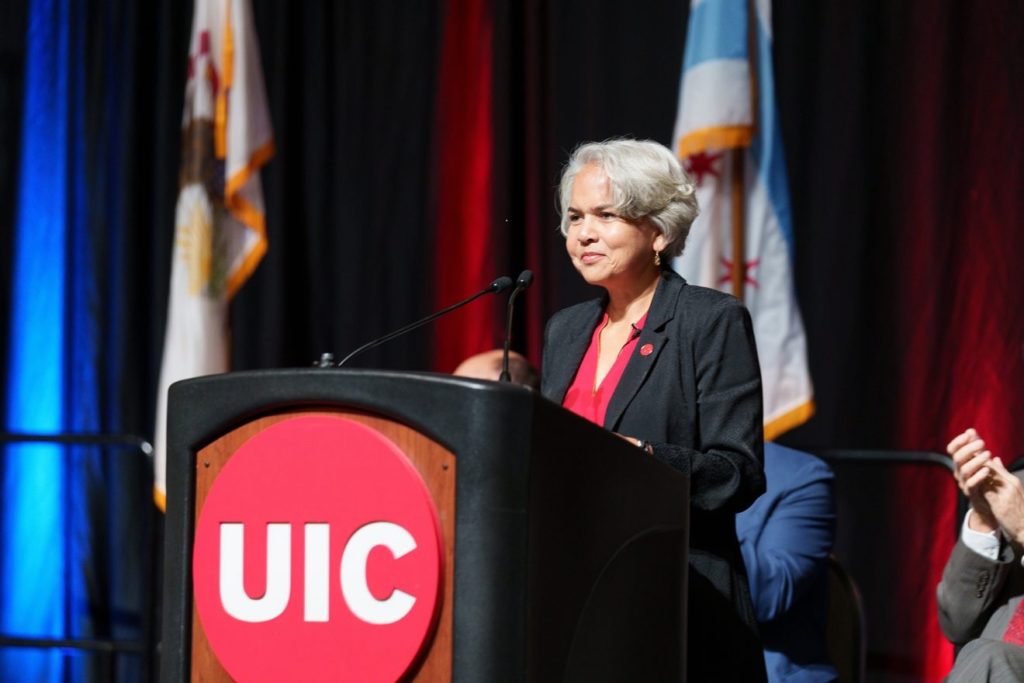 Marie Lynn Miranda, a researcher who uses her knowledge of mathematics and statistics to study environmental and public health with a focus on children's health, has been named UIC chancellor.
Miranda will take office July 5, 2023; her appointment was approved Nov. 17 by the UI Board of Trustees. She succeeds former chancellor Michael Amiridis, now president of the University of South Carolina.
Miranda, a leader in geospatial health informatics, is professor of applied and computational mathematics and statistics and former provost at Notre Dame University. As Notre Dame provost, she led the university's academic response to the COVID-19 pandemic.
Throughout her career, Miranda has worked to make higher education more inclusive by increasing faculty and student diversity. Before joining Notre Dame in 2020, she held leadership and faculty positions at Rice University, University of Michigan and Duke University.
At Notre Dame, she is founding director of the Children's Environmental Health Initiative. The program uses spatial design of environmental health research to study problems including childhood lead exposure, racial residential segregation and the social and environmental stressors of segregated neighborhoods that drive health and educational disparities.
Over her career, Miranda has been principal investigator or co-principal investigator on over $75 million dollars in research funding.
She earned a bachelor's in mathematics and economics at Duke and a PhD and master's from Harvard University. She is a fellow of the American Association for the Advancement of Science.
"It is an honor to be chosen to lead one of the country's great urban universities and to serve this global city and its people," Miranda said. "I look forward to learning from and working with students, faculty and staff as we work collaboratively with our community partners to meet the pressing challenges and opportunities before us."
This article has been edited for length and clarity by Sonya Booth.