Multidisciplinary focus on health studies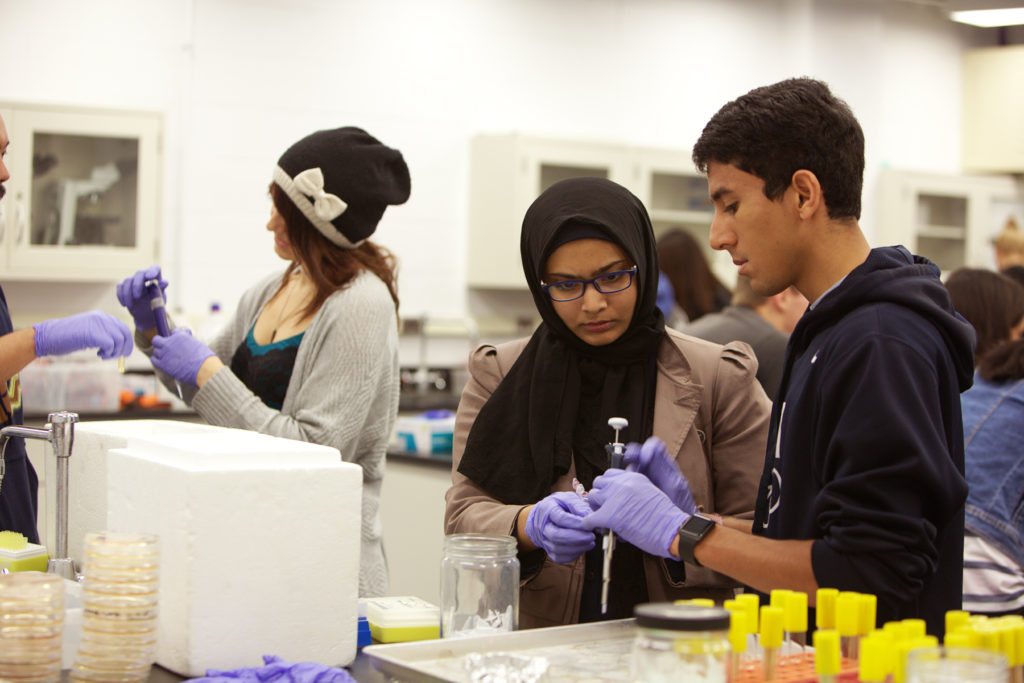 From economics and ethics to biology and psychology, determinants of health fall under a broad range of categories.
"Health is complex," said Demetra John, associate dean for academic and student affairs in the College of Applied Health Sciences. "So, anyone who wants to practice anywhere in the health-related field really needs to understand it from a multidisciplinary perspective."
A curriculum developed using the educational and research expertise from the College of Applied Health Sciences and the College of Liberal Arts and Science lets students do just that.
Implemented in fall 2016, the Integrated Health Studies major teaches undergraduates to think about and understand the ways in which cultural, societal, behavioral and environmental factors impact human health and disease.
"[The degree program] is looking at those aspects of health relations more holistically," said Miquel Gonzalez-Meler, professor of biological sciences and associate dean for student academic affairs in LAS.
Gonzalez-Meler explained that LAS brings "the economics, social, human and biological aspects," while AHS has "the human applications of that knowledge in a specific way — internships and things of the like."
The degree program consists of relevant core content that spans subjects such as life sciences, natural sciences, health economics, social sciences and the humanities. The major, which is jointly supported by the departments of biological sciences and psychology, also allows students to focus on one of two concentrations: health science or behavioral health.
"Both concentrations have a fair amount of flexibility of what students can take," said Michael Ragozzino, professor and head of psychology. He added that the behavioral health track includes courses related to developmental and community psychology, and basic research methods, among other topics. The health and science concentration offers courses that cover Mendelian and molecular genetics, neuroscience, developmental biology, biochemistry, mammalian psychology and more.
"The IHS program provides a really exciting, new option to undergraduates who have a broad interest in human health-related studies," said Janet Richmond, professor and head of biological sciences. "I think this is a great alternative to the really highly popular degree programs offered by biology."
Examples of other available courses include "Ethics, Law and Professionalism in Health Sciences," "Nutrition," "Health and the Public," "Human Anatomy and Physiology," "Disability in U.S. Society" and "Physics in Modern Medicine."
The degree is designed to prepare students for life after graduation.
"We really think that this degree will broaden the perspective of all of our students, no matter what field they go into, and that they're going to bring that broader perspective to either their employment after their bachelor's degree or to their postgraduate studies," John said.
Graduates of the Integrated Health Studies degree program can enter the job market in a variety of health-related professions — as health care administrators, sales specialists, health educators, laboratory technicians, patient care advocates and more. The major also allows undergraduates to complete their prerequisite course requirements for medicine, dentistry, pharmacy, physical therapy, occupational therapy and a number of other professional health and graduate programs.
"It's a progressive degree: it's modern, it's the direction we should really be looking," John said.
Undergraduates must take "Introduction to Integrated Health Sciences," (AHS 200) to declare the major.
For more information about degree requirements or to contact advisors, visit the Integrated Health Studies website.