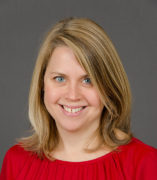 Heidi C. Fischer
Clinical Associate Professor, Occupational Therapy
Focus Areas
Email
Office Phone
Office
1919 W. Taylor St., 347 AHSB
Office Hours
By appointment
Related Sites
About
Heidi Fischer received a B.S. in Psychology at the University of Illinois at Urbana-Champaign in 1997 and M.S. and Doctoral degrees in Occupational Therapy from the University of Illinois at Chicago in 1999 and 2015. She worked at Shirley Ryan AbilityLab for 14 years as a clinical OT, research OT and Clinical Research Coordinator and served as Quality Consultant for the American Occupational Therapy Association. Dr. Fischer is lead instructor and co-instructor for five core courses in the occupational therapy program. She is Co-Investigator of two National Institute on Aging Midwest Roybal grants at UIC and clinical research coordinator for several NIH-funded clinical trials and NIDILRR center grants at Shirley Ryan AbilityLab. She is co-author of over 40 articles, and presented at 45 national and international conferences. Dr. Fischer is Director of the UIC OT Faculty Practice: Self-Management for People Experiencing Chronic Conditions. Her scholarly interests include self-management for people with chronic conditions including stroke and diabetes; occupation-based stroke rehabilitation; and enhancing participation, inclusion and advocacy for people with disabilities.
Service to the Community
Dr. Fischer leads a collaborative with the Rehabilitation Measures Database at the Shirley Ryan AbilityLab to develop and publish new instrument summaries. To date our OT students have submitted over 65 summaries and 3 have been published in peer-reviewed journals.