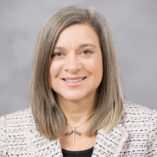 Susan Magasi
Professor, Department Head, Occupational Therapy
Professor, Disability and Human Development
Focus Areas
Email
Office Phone
Office
1919 W. Taylor St., 327 AHSB
Office Hours
By appointment
About
Susan Magasi is professor and Head of the Department of Occupational Therapy.
She is passionate about issues of health and participation equity for people with disabilities.
She works closely with the disability community using an equity-focused, community-based participatory approach to help understand and break down barriers to primary and cancer care for people with disabilities via peer support and self-management-based interventions. She is increasingly adapting these interventions for remote delivery via smartphone-based apps.
She is deeply committed to mentoring the next generation of disability and occupational therapy researchers, with a commitment to students who have traditionally been under-represented in clinical practice, academia, and research. Her teaching focuses on evidence-based practice, knowledge translation, and qualitative methods.
Selected Grants
National Institute on Disability, Independent Living and Rehabilitation Research, mENTER: A remote mHealth enabled peer navigator intervention for people with disabilities transitioning to community living, Principal Investigator
National Cancer Institute, WeCanManage - An mHealth self-management intervention for cancer survivors with known disabilities, Principal Investigator
Publication Aggregators
Leadership in the Profession
American Occupational Therapy Foundation - Scientific Advisory Council, Chair
Notable Honors
2023 - Fellow, American Congress of Rehabilitation Medicine
2022 - Researcher of the Year, College of Applied Health Sciences, University of Illinois at Chicago
2016 - Researcher of the Year, Rising Star in Social Sciences, University of Illinois at Chicago
2016 - Acting Up Award, Chicago Community Trust
Education
Post-Doctoral Fellowship in Health Services and Outcomes Research, Northwestern University Feinberg School of Medicine and the Rehabilitation Institute of Chicago, 2006-2008
PhD, Disability Studies, University of Illinois at Chicago, 2006
MS, Occupational Therapy, University of Illinois at Chicago, 2002
BS, Occupational Therapy with great distinction, McGill University, 1995
BS with distinction, University of New Brunswick, 1992