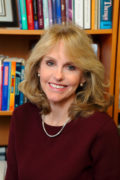 Elizabeth Walker Peterson
Clinical Professor, Occupational Therapy
MS and entry-level OTD Director of Professional Education, Occupational Therapy
Focus Areas
Email
Office Phone
Office
1919 W. Taylor St., 325 AHSB
Office Hours
By appointment
About
Dr. Peterson is Clinical Professor and Director of Professional Education (MS & E-OTD), Dept. of Occupational Therapy, Univ. of Illinois at Chicago. She earned her PhD from the Karolinska Institutet in Stockholm, Sweden, and has been a faculty member at UIC since 1993. She has taught BS, MS, and post-professional OTD students. Her accomplishments as an educator have been recognized with 11 internal awards including the 2019 American Occupational Therapy Association (AOTA) Distinguished Educator Award. Dr. Peterson's clinical experience as an occupational therapist is primarily in the area of gerontology/physical disabilities. She has actively engaged in research on fall prevention research involving people living with MS and community-dwelling older adults for over 3 decades, and her work has helped to articulate occupational therapy's role in interdisciplinary fall prevention efforts. She contributed to the development of Matter of Balance (MOB), the most widely disseminated falls intervention program in the U.S and continues to support program dissemination. Interprofessional education is also an important focus of her scholarly work. Dr. Peterson is a Fellow of the AOTA.
Selected Grants
Health Resources and Services Administration, ENhancement of Geriatric Care for All through TraininG and Empowerment 2.0 (ENGAGE-IL 2.0). Building Age-Friendly Health Systems & Workforce , Co- Investigator. PIs: M. Hasnain & V. Gruss (UIC)
Swedish Research Council, A self-management program to prevent falls in ambulatory and non-ambulatory community dwelling people with multiple sclerosis (PwMS), Co-Investigator. PI: C. Ytterberg (Karolinska Institutet)
Paralyzed Veterans of America, Feasibility of an Online Program to Manage Falls Among Wheelchair and Scooter Users, Co-Investigator. PI: L. Rice (UIUC)
National Multiple Sclerosis Society, Fall Prevention Program Among Non-Ambulatory Wheeled Mobility Device Users with Multiple Sclerosis, Co-Investigator. PI: L. Rice (UIUC)
Publication Aggregators
Service to the Community
Dr. Peterson founded the IL Fall Prevention Coalition in '08, and serves as the IL liaison to the Nat'l Council on Aging (NCOA)-led Falls Free Initiative. She is a founding member of the NCOA Falls Free Coalition, and has supported the AOTA's efforts to solidify occupational therapy's role in fall prevention through a variety of efforts (e.g., publications, conference presentations, CE programs).
Leadership in the Profession
Accreditation Council for Occupational Therapy (ACOTE), Roster of Accreditation Evaluators
National Council on Aging, Member, (Invited): National Home Safety and Home Modification Work Group; Consumer and Professional Education and Training Subcommittee (Initiative is a collaboration between NCOA and the USC Fall Prevention Center of Excellence)
University of Illinois at Chicago, UIC IPE Steering Committee
American Geriatrics Society/British Geriatrics Society Panel to Update Guidelines for the Prevention of Falls in Older Persons., Expert Panel Member (20o5-2009)
Notable Honors
2019 - OT/OTA Distinguished OT/OTA Educator Award (Inaugural award recipient). , American Occupational Therapy Association
2016 - Award for Excellence in Teaching (AET), UIC
2014 - Outstanding Academic Leadership Award, UIC College of Applied Health Sciences
2006 - Fellow, American Occupational Therapy Association (AOTA), American Occupational Therapy Association
Education
PhD, Medical Science, Karolinska Institutet, 2009
MPH, Social & Behavioral Sciences, Boston University, 1989
MS, Occupational Therapy, University of Florida, 1985