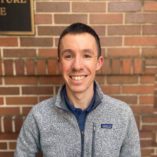 Ryan Thomure
Academic Fieldwork Coordinator, Clinical Assistant Professor, Occupational Therapy
Focus Areas
Email
Office Phone
Office Hours
By appointment.
Related Sites
CV
About
Dr. Ryan Thomure is serves as an Academic Fieldwork Coordinator and Clinical Assistant Professor within the Department of Occupational Therapy. He has worked as an occupational therapist in both home health and mental health settings. Ryan serves as the Occupational Therapy Supervisor at AMITA Health Housing and Health Alliance and as a Program Leader at Canine Therapy Corps, working in an animal-assisted therapy program serving the inpatient rehabilitation unit at Swedish Covenant Hospital.
He completed his doctorate in occupational therapy at Boston University with a project focused on increasing the role of occupational therapy in serving people affected by homelessness. While Ryan's role in the department focuses primarily on fieldwork, he is a co-instructor in UIC's HIV Inter-professional Education Program and has guest lectured in various courses within the MS program.
In addition to his work as an occupational therapist, Ryan is licensed as a clinical social worker and has worked in that capacity as a case manager, health educator, and psychotherapist.
Leadership in the Profession
Illinois Occupational Therapy Political Action Committee, Secretary, 2018-present
Education
OTD, Occupational Therapy, Boston University, 2020
MS, Occupational Therapy, University of Illinois at Chicago, 2016
MSW, Social Work, Loyola University Chicago, 2012
BA, History, University of Iowa, 2010