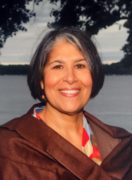 Gay L. Girolami
Clinical Professor, Physical Therapy
Director of Professional Education, Physical Therapy
Email
Office Phone
Office
1919 W. Taylor St., 455 AHSB
Office Hours
By appointment
About
Gay L. Girolami, is a Clinical Professor and the Director of Professional Studies in the Department of Physical Therapy at the University of Illinois at Chicago. Dr. Girolami received her BS in physical therapy from Marquette University and an MS in pediatric physical therapy with a minor in curriculum design from the University of North Carolina at Chapel Hill. She completed her doctoral degree in Movement Sciences in the Department of Kinesiology and Nutrition at the University of Illinois at Chicago. Dr. Girolami is a co-developer of the Test of Infant Motor Performance (TIMP).
Before coming to UIC she was a faculty member at Concordia University Wisconsin in the Doctor of Physical Therapy Program. Prior to shifting her focus to an academic career, Dr. Girolami served for 26 years as the founding executive director of Pathways Center in Glenview, Illinois. Pathways is a multidisciplinary, non-profit outpatient clinic with the mission of providing evidence based assessment and treatment to children with neurological and developmental conditions.
Publication Aggregators
Service to the Community
Dr. Girolami's is active in the Pediatric Section of American Physical Therapy Association, past president of the Neuro-Developmental Treatment Association and a member of the American Academy for Cerebral Palsy and Developmental Medicine.
Leadership in the Profession
American Physical Therapy Association (APTA), Movement Systems Task Force
APTA, Academy for Pediatric Physical Therapy, Movement Systems Committee
APTA, Academy for Pediatric Physical Therapy, Combined Sections Program Committee
Education
PhD, Movement Sciences, Department of Kinesiology and Nutrition, University of Illinois at Chicago
MS, Applied Health, Department of Physical Therapy, University of North Carolina at Chapel Hill
BS, Physical Therapy, Marquette University