Providing training to help prevent falls
Tuesday, February 14, 2017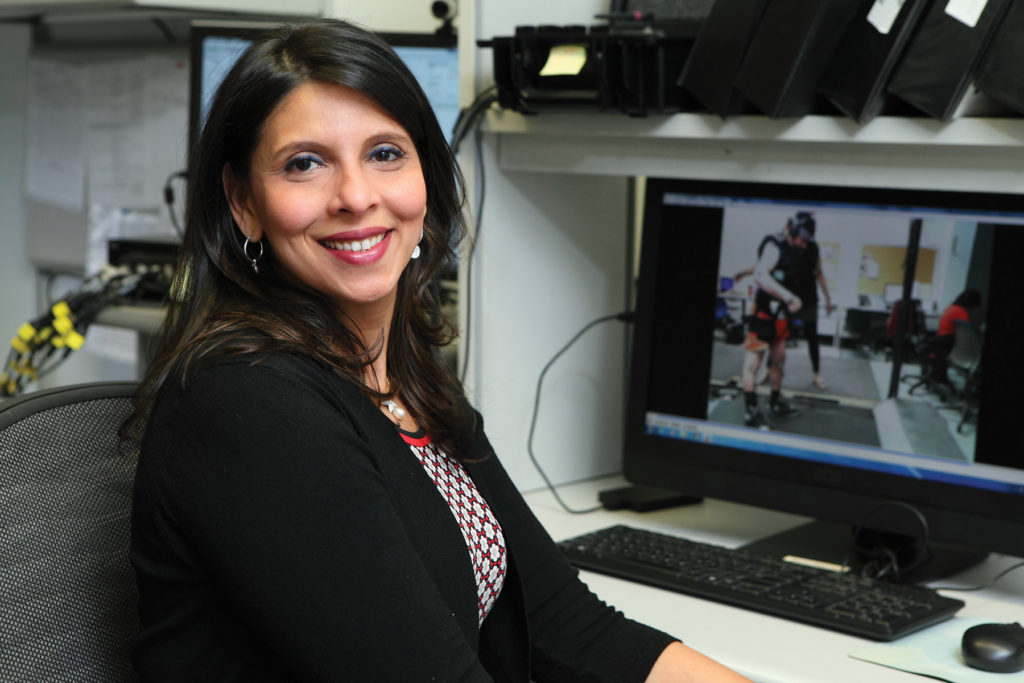 Research driven by clinical practice — that's the motivation for Tanvi Bhatt, assistant professor of physical therapy, who was recently named a UIC Rising Star Researcher of the Year.
Bhatt, a licensed physical therapist, worked as a clinician before, during and after her graduate studies. Last fall, she was awarded two five-year, $1.6 million research grants from the National Institutes of Health. Still, she continues her part-time practice at Marianjoy Rehabilitation Hospital.
"With research, there are no instant rewards like you get in clinic," Bhatt says.
But research brings its own satisfaction, she adds. "It gives me immense pleasure to come up with new questions and keep answering them."
The latest questions she wants to answer will continue her focus on the mechanisms of walking and falling:
Can older adults be trained to avoid falling?
Falls create serious health problems for older adults. Slip-related falls are particularly dangerous — the person falls backwards, often causing hip fractures.
In one of her latest NIH-funded projects, Bhatt and her research team will study 300 adults age 65 and older. Their goal is understand exactly what happens when people fall, then translate that knowledge into therapy and equipment that can be used in clinics.
Could stroke survivors recover more quickly if therapy focuses on the "good" leg, rather than the "bad" one?
Physical therapy after stroke focuses on improving the leg on the damaged side of the body. Bhatt says there's evidence that concentrating on the other leg could be beneficial as well. In her other NIH-funded research project, she and her team will study the effectiveness of this bilateral training in 100 stroke survivors.
Receiving two substantial NIH awards in one year is remarkable for an early-career researcher. Bhatt says she shares the credit for this success with her graduate student research team, including Ph.D. candidate Prakruti Patel; the current and former heads of the department of physical therapy, Ross Arena and Christina Hui Chan; UIC colleagues Shane Phillips and Alex Aruin; and, most of all, her mentors, Tony Szturm at University of Manitoba, where she earned a master's in rehabilitation, and Clive Pai, professor of physical therapy and the adviser for her Ph.D. in movement sciences at UIC.
So it's no surprise that Bhatt pays it forward. She has received both department and college awards for teaching excellence, and she mentors students in the Chancellor's Undergraduate Research program.
"Dr. Bhatt is a dedicated scholar who demonstrates excellent potential to establish herself as a next-generation scientist, mentor and teacher," says Phillips, professor and associate head of physical therapy, who nominated her for the UIC award.