Cydney Liebenberg is diving for gold
Wednesday, April 21, 2021
Cydney Liebenberg '21 BS RS, a five-time Horizon League diving champion, will compete internationally in the FINA Diving Grand Prix this summer after winning four gold medals in the South African National Championships.
She was No. 1 in the individual 1-meter and 3-meter and the 3-meter synchronized and mixed synchronized events at the championships, sponsored by Swimming South Africa in Boksburg April 1-6.
Liebenberg, a native of Pretoria, is South Africa's first alternate for the World Cup; she is eligible to represent South Africa at the World University Games in China.
"She's the best diver I've ever had. Hands down," says UIC Flames diving coach Susan Bromberg.
Liebenberg expects to graduate in August with a major in rehabilitation sciences and two minors: disability and human development, and psychology.
Next, she wants to earn a master's degree in marketing, with long-term plans for a career in nonprofit health care working with underserved communities.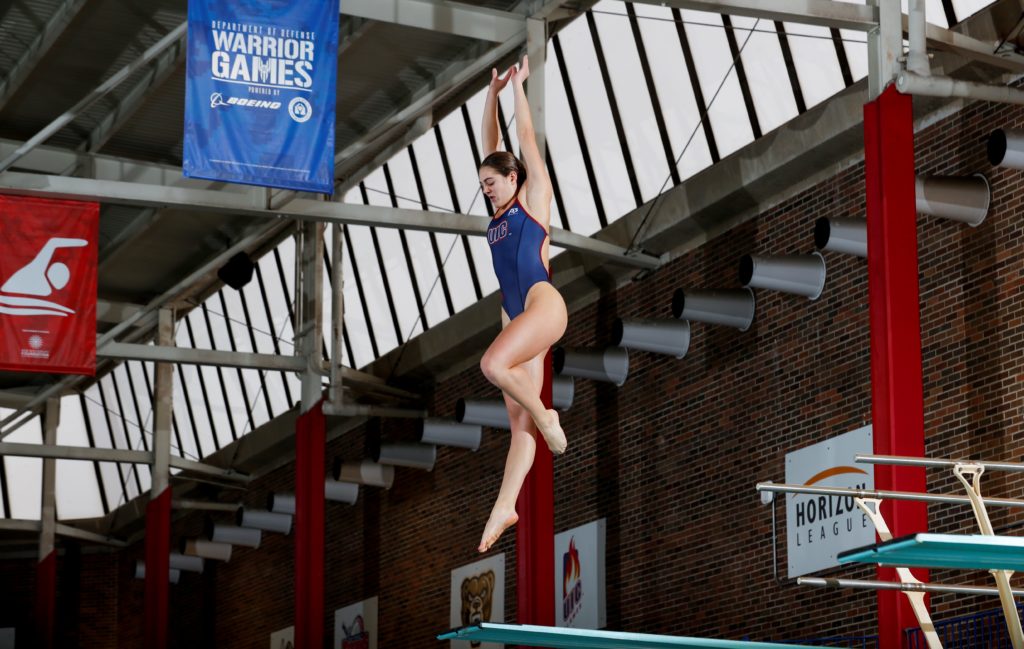 Rehabilitation sciences is a demanding program, and the student athlete says balancing her studies with 20 hours of practice a week was a challenge.
"I think it allows you to have better time management and organization skills because you are always busy, so you have to make sure you find time to get everything done," she says.
Athletics and AHS "have incredible resources for students that I definitely utilized and helped me be successful," she says, including ASAP (the Academic Support and Achievement Program) and her academic adviser, Michele Santana.
"Cydney's work ethic in her sport extends into the classroom," Santana says.
Liebenberg's first sport was gymnastics; she took up diving in high school after an elbow injury.
"I pretty much loved it from day one," she says. "It has similar movements to gymnastics and so I was able to pick it up pretty quickly."
She wanted to study and compete at a university in the U.S., and when she visited Chicago and UIC "I really liked the city, as well as what the school offered."
Just as important, "I connected really well with my coach, Susan Bromberg, from the first time we met," Liebenberg says.
"I love being a part of both the UIC and South African diving teams and I enjoy the success that comes with it. I love the challenging parts of diving and being able to improve upon my skills on a daily basis and seeing my improvement on a monthly and year basis.
"Diving also opened up unique opportunities to travel and meet people who are just as passionate as I am.
"It makes me feel that I am a part of something bigger than myself."