Kharma Foucher wins Orthopaedic Research Society's 2021 Adele L. Boskey, PhD Award
Wednesday, November 11, 2020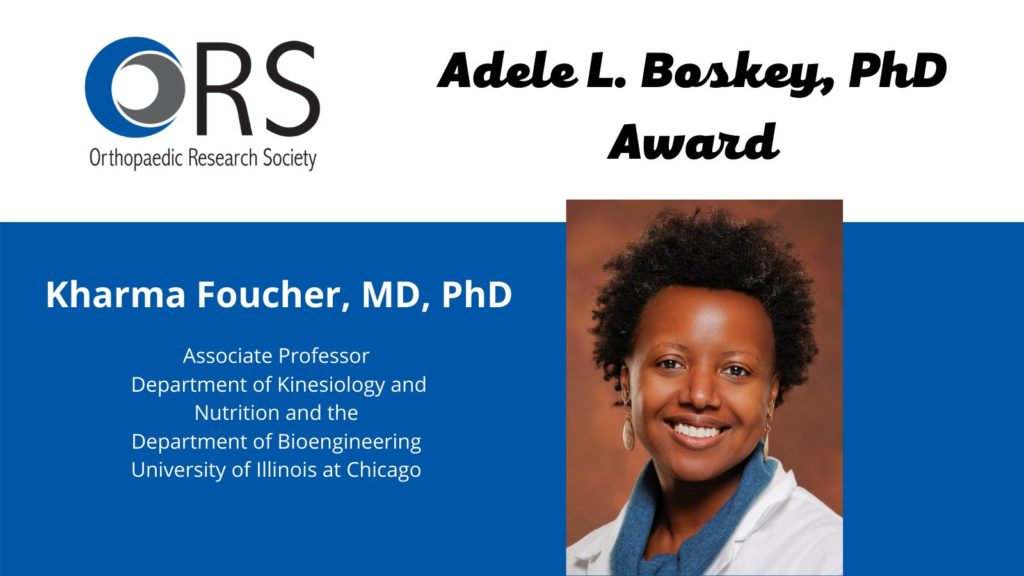 Kharma Foucher, associate professor of kinesiology and nutrition, has received the Orthopaedic Research Society's 2021 Adele L. Boskey, PhD Award.
The award recognizes a mid-career scholar for mentorship that advances diversity in the fields of orthopaedics, musculoskeletal science and engineering. Award-winners must also demonstrate research and leadership.
"In addition to her significant research contributions, Dr. Foucher's national recognition as a generous mentor and a thoughtful leader is a remarkable achievement," said Kelly Tappenden, professor and head of kinesiology and nutrition.
Foucher directs the Biomechanics and Clinical Outcomes Lab, dedicated to "patient-centered" biomechanics research on hip osteoarthritis to improve gait, physical activity and quality of life.
She has received grants from the National Institute on Aging and the UIC Center for Clinical and Translational Sciences.
She is a member of the editorial review board of the Journal of Orthopaedic Research and the Musculoskeletal Rehabilitation Sciences Study Section, Center for Scientific Review, National Institutes of Health.
Foucher teaches undergraduate and graduate courses in kinesiology. She is associate director for education and professional development in the Center for Clinical and Translational Sciences and adjunct associate professor of bioengineering.
A faculty member in kinesiology and nutrition since 2013, Foucher is a graduate of the UIC M.D./Ph.D. program with a Ph.D. in bioengineering. Before joining UIC, she was a faculty member in orthopedic surgery at Rush University Medical Center.