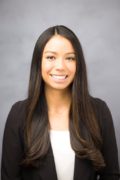 Dalmina Arias
Clinical Assistant Professor, Occupational Therapy
Coordinator of Student Outreach and Enrollment, Occupational Therapy
Focus Areas
Email
Office Phone
Office
1919 W. Taylor St., 341 AHSB
Office Hours
By appointment
Related Sites
About
Dalmina Arias, OTD, OTR/L, is a clinical assistant professor and Coordinator of Student Outreach and Enrollment in the Department of Occupational Therapy. Her clinical experience as an occupational therapist spans across the inpatient, outpatient, and home settings. Dr. Arias clinically serves as an occupational therapy practitioner at Schwab Rehabilitation Hospital.
Dr. Arias teaches content on the foundation of occupational therapy knowledge and skills; payment, policy, advocacy, and access; and management and program development.
Dr. Arias' research interests include addressing health disparities among minoritized individuals from diverse racial/ethnic backgrounds. Dr. Arias is involved in creating evidence-based health promotion interventions that address health disparities due to access, quality of care, and cultural barriers for individuals with chronic health conditions. In collaboration with the Institute for Healthcare Delivery Design, Dr. Arias consults on a project funded by the Blue Cross Blue Shield of Illinois Health Equity Pilot Project. This project involves creating a community-based pilot program for individuals with hypertension and type-II diabetes.
Selected Grants
Blue Cross Blue Shield of Illinois Health Equity Pilot Project, Me4Me, Co-PI
Publication Aggregators
Leadership in the Profession
The DiversOTy Chicago Collective, Co-Founder
Illinois Occupational Therapy Association, Director of Finance