Litany Esguerra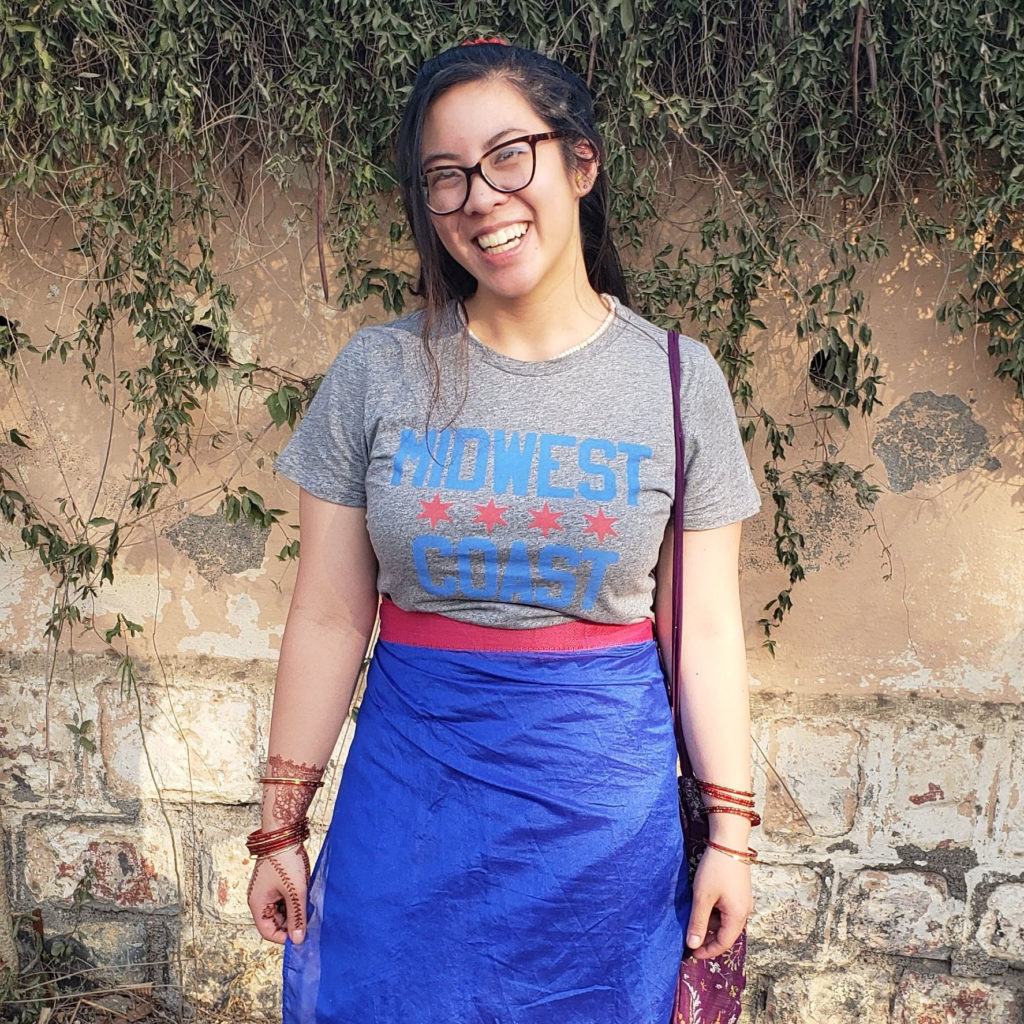 A spirit of adventure and a desire to help others has already taken Litany Esguerra '18 BS RS from suburban Glen Ellyn to Chicago, Washington, D.C., the Philippines, England and India (twice).
She's not one to travel a straight line from Point A to Point B. The turns in her path have led her toward a different career than she first envisioned.
"I'm very goal oriented, as opposed to being a planner," says Esguerra.
"My goal is to work with people, to find a way that my work can contribute to their empowerment. It's important not to plan every step of the way, but to be strategic."
When Esguerra, a first-generation Filipino American, came to UIC, she felt at home right away.
"I wanted to go to a campus where diversity wasn't just a marketing a tool. I connected with lots of other students who were first- and second-generation Americans juggling responsibilities between families, school and jobs."
The daughter of a nurse and a pastor, Esguerra majored in rehabilitation sciences with plans to become a physical therapist. In her junior year, wanting a break from her science courses, she spent a study abroad semester in New Delhi.
"I needed to do something completely different, to go someplace I wouldn't otherwise visit," she says.
The program focused on public health, policy and community.
"In the classroom, we learned about public health in India. Then we'd go to a crowded hospital. Seeing that first-hand was eye opening—until then, I didn't understand what access to health care really meant."
For her study abroad research project, she worked with an organization that supplied free prosthetic limbs to the very poor.
When she returned home, her career focus had shifted to disability and access to health care around the world.
After graduation, Esguerra went to Washington, D.C. First, she spent three months as a public policy intern with the National Disability Rights Network, focusing on employment discrimination.
"I had learned about barriers to accessing employment for people with disability through my minor in disability studies, and I applied some of the knowledge I had gained," she says.
Her next step: four months as an intern on the research and legal team with the Obama Foundation, where she created in-depth reports on potential foundation partners.
"I wanted to work in a mission-oriented organization but learn a completely different skill."
After she completed her Obama internship, she spent the summer in Manila, where she was an outpatient rehabilitation volunteer at a hospital serving the urban poor.
Then Esguerra returned to India for six months as a community health intern with the Comprehensive Rural Health Project, an NGO that helps the rural poor through a community-based approach to health care and development.
"It was exciting to be in D.C. around other passionate young people, but I wanted be out there, not at a computer screen, to see how people are trying to create better conditions for empowerment," she says.
In rural Jamkhed, Esguerra did a little bit of everything. She coordinated care plans with international medical teams, worked on donor partnerships with other NGOs, helped with mobile health services, quantified data for grants and served as a communications and general point person for visitors.
Her internship solidified her desire to work towards empowerment and inclusion for people with disabilities on an international level—which took her to graduate studies at the University of Leeds, where she just completed a master's in disability studies.
Now she's back at UIC as part of the team developing the UIC Certificate in Co-Operative Career Experience, a federally funded program in the Department of Disability and Human Development. Students with intellectual disabilities will attend classes at UIC through the two-year certificate program, which prepares them for a career in their chosen field.
Her long-term goals? A Ph.D. in health sociology with a disabilities focus, then a position at a university or the World Health Organization, working on health issues in India, the Philippines or "wherever they need me."
Esguerra has covered a lot of ground in the last few years—in mileage and experience. She said her studies in rehabilitation sciences were a great place to start.
"My major was a stepping stone for exploring anything related to health care," she says. "Our professors encouraged us to pursue unconventional topics and opportunities."
Esguerra says two faculty members were especially helpful: retired AHS associate dean Demetra John and clinical professor Michelle Bulanda.
"They were very influential mentors," she says. "I really appreciate how much encouragement and support they gave the students—so much love and respect."