Mike Gapski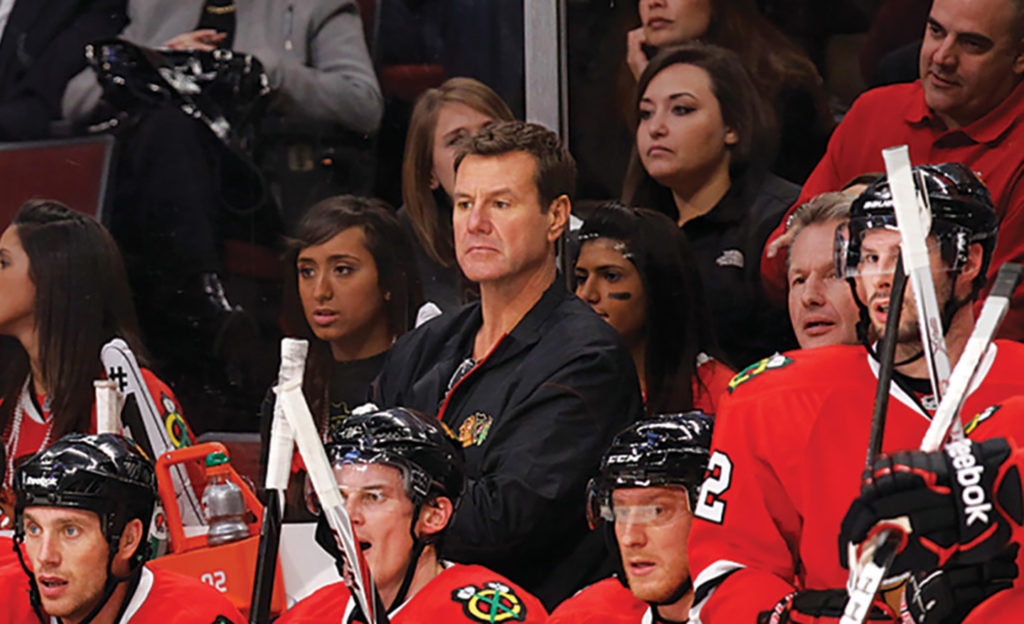 When the champion Chicago Blackhawks head onto the ice, they know Mike Gapski is behind them.
Gapski, a 1982 graduate in physical education (the forerunner to today's kinesiology program), is head athletic trainer for the three-time Stanley Cup winners. He was recruited by the Blackhawks in 1987, after four years as a trainer at UIC.
"I've been a Blackhawks fan my whole life," he says. "I consider these guys my friends, not just people I work with."
Gapski says he's always on call. "On a game day, typically, we'll get in at 8 in the morning to treat guys who need treatment. After practice and the pregame skate, players go to lunch, and I do my paper work. At about 4 o'clock, the guys come back, and we do whatever we have to do to get ready for the game. If it's a home game with a 7:30 start, I usually leave [the United Center] at about 11:30 or midnight.
"For away games, we travel as soon as the game ends. Right after the game, we'll do our treatments really quick, then jump on a plane. We'll do treatments again on the plane. And we get to our hotel rooms between 1 and 3 in the morning."
Despite the demanding schedule, "I don't look at it as a job; I look at it as fun," Gapski says. "You can't be a phony in this job. You have to truly care about the guys, truly care about the team."
When he started college, Gapski was interested in applied sports nutrition. He sought out a career counselor who introduced him to several exercise physiologists and then-UIC head athletic trainer Carol Humble. Their advice started him on the career path that led to the Blackhawks.
"You have to continue to learn all the time because complacency will get you nowhere," he says. "Doesn't matter if it's your first year or 20th year, you always look for some way to better yourself, some way to help the guys out."