Savannah Soppet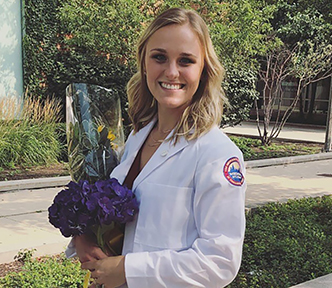 The knowledge Savannah Soppet '17 BS KINES gained in the classroom and the laboratory helped get her admitted to the UIC College of Medicine. The lessons she learned on the softball field, she uses every day.
"Time management. Teamwork. The mental aspects of getting through something that's really hard—to push through, focus and grind it out," she says.
Most of all: "You have to be prepared for whatever is thrown at you, and be able to react."
A native of Beecher (pop. 4,300) in Will County, Soppet was a three-time high-school conference winner when she was recruited by the Flames.
"Chicago was a culture shock at first, but I needed to get out and see the world."
Soppet started as a biology major, then switched to kinesiology.
"My second year I took anatomy, and I couldn't see myself sitting in a biology class any longer. I liked the science and the sports aspect."
An outstanding student-athlete, she had one of the team's top batting averages and a perfect GPA that kept her on the Horizon League Honor Roll. She didn't consider becoming a physician until she worked as an undergraduate research assistant with Joseph Colla, associate professor of emergency medicine.
"'You're going to medical school,' he told me. 'You're going to be disappointed if you don't,'" Soppet remembers.
Because of her softball schedule, Soppet couldn't apply to medical school as a senior. She took a gap year, working as a medical scribe in the emergency department at Advocate Trinity Hospital on the Southeast Side.
She plans to practice emergency medicine, eventually specializing in critical care. Her undergraduate studies in kinesiology gave her a solid foundation in the importance of wellness and preventive health care, as well as social and other determinants of well-being.
Kinesiology faculty members she recalls as especially influential include Craig Horswill, Lisa Chin Goelz and Michael W. Jones '10 BS KN, '13 MS KN, '13 DPT, former director of the human cadaver lab.
Her gap year didn't set her back, Soppet says—it pushed her forward.
"I think the best physicians are the ones who have experienced the world first," she says.