UIC kinesiology students, faculty volunteer at 2023 Chicago Marathon
Thursday, November 9, 2023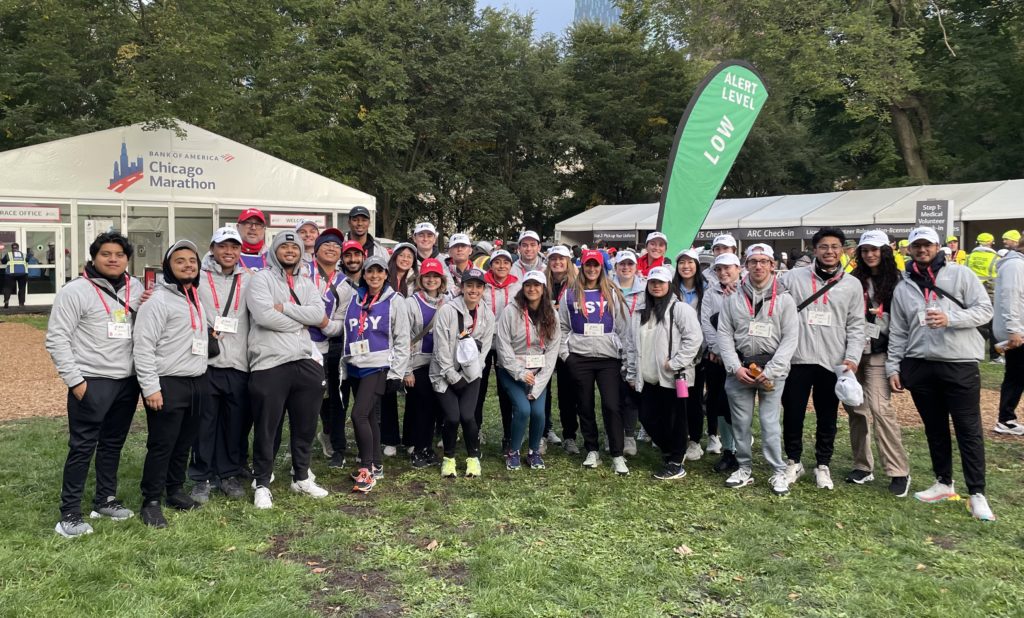 As 47,000 runners gasped their way past the finish line at the 2023 Chicago Marathon, UIC kinesiology students were there to help.
About 45 KN undergraduate and graduate students volunteered for the marathon's Sweep and Psyching teams, supporting runners who were physically and emotionally spent after the grueling 26-mile race.
John Coumbe-Lilley, KN clinical professor, and Meredith Wekesser, KN clinical assistant professor, supervised the students over an eight-and-a-half hour shift before, during and after the race. The Oct. 8 marathon, an annual event, starts and ends in downtown Chicago's Grant Park with a course through the streets of the Loop, Near West Side and South Side.
Students helped the runners move from the finish line through the finish chute, assessing whether they needed treatment by health care staff and providing emotional support after the often-overwhelming experience of completing a marathon.
For instance, fourth-year undergrads Michael Alvero and Alex Garber stayed with one runner for about 45 minutes until he could stand on his own, grateful for their help.
It was the second year KN students have worked at the marathon through a collaboration between Coumbe-Lilley and Michele Kerulis, a Northwestern University faculty member who is director of the Psyching Team and a member of the marathon medical committee. Last year, 30 KN students worked on the Sweep Team.
To prepare the students for their marathon duties, Coumbe-Lilley developed a training program of didactic, online interactive and hands-on simulation training, conducted by Tony Williams, Matt Dorey, Logan Gallaher and Dominique Martinez, all KN graduate students in the Resilient Athlete Program. The undergrads also completed 10 hours of online training to receive certificates in psychological first aid from the National Child Trauma Service Network.