Arnold Lee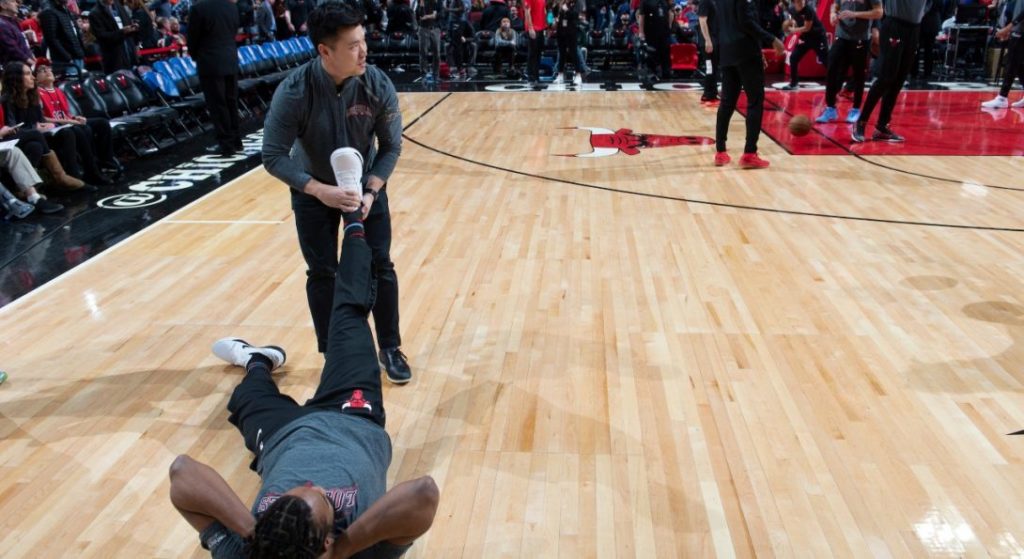 Arnold Lee '10 BS KINES knows how lucky he is.
A longtime Chicago sports fan, he has a dream job—assistant athletic trainer for the Chicago Bulls.
"I didn't think that your passion and your career could be the same thing," Lee says.
Lee started UIC as a pre-dentistry major, but he found his career path in an introductory kinesiology class taught by Karrie Hamstra-Wright, KN clinical associate professor.
"Karrie had such an impact on the direction of where I wanted to take my career. I don't think she really knew how much impact she had," says Lee.
The experience of Lee's father, who had moved to the U.S. from South Korea, was another influence. Although he had an MBA in his native land, his career aspirations were stymied by the language barrier and an immediate need to support his family. At one point, he worked three manual labor jobs to make ends meet.
"He was forced into this career to provide for his family," Lee says. "That was always ingrained in me."
After graduating from UIC, Lee earned an MS in athletic training at California Baptist University. In his first job, as athletic trainer at Kennedy-King College on Chicago's South Side, many of his students used sports to access higher education and emerge from poverty.
"I formed so many bonds that I could never replace," he says. But after three years, "on a career level, I felt like I wasn't growing, like I needed to move on."
Lee considered switching careers; he was newly married (to Jane Ahn '11 LAS) and felt the responsibility of providing for his own family.
Then he got an athletic training internship with the Chicago Bears for summer training camp and preseason.
"I found the joy in my career again," he says.
He was hired as head athletic trainer for the Windy City Bulls, the Chicago Bulls Development League Team in the NBA G League. A year later, he moved up to become Bulls assistant athletic trainer in 2017.
Lee, who is a certified athletic trainer, strength and conditioning specialist and corrective exercise specialist, works to keep the Bulls in top physical shape during the playing season and in the offseason. Before each game, he stretches the players and does tissue work. Throughout the year, he also leads injured players through therapeutic exercises and, along with the strength coaches, monitors them in the weight room.
"I love helping people return to health and the bond that you form with your athletes," he says.