2023 Accessible Juneteenth announcement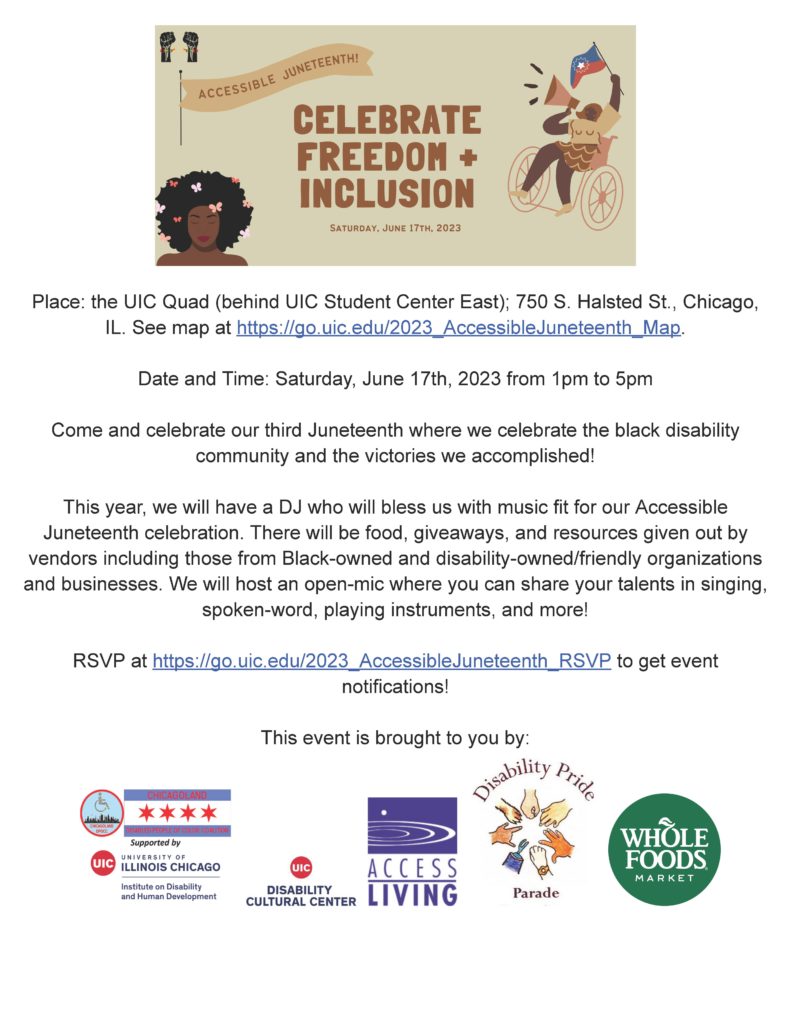 For immediate release 
Chicagoland Disabled People of Color Coalition, UIC Disability Cultural Center,  Access Living, the Chicago Disability Pride Parade, and the Institute on Disability and Human Development will host the third annual Accessible Juneteenth celebration. The event is also sponsored by Whole Foods through a grant.

Since 2021, Chicagoland DPOCC have hosted Accessible Juneteenth to celebrate Juneteenth and commemorate Black people with disabilities who have helped create a more free world for Black communities worldwide. 
The celebration will be held on Saturday, June 17th, 2023 from 1pm to 5pm at the UIC Quad (behind UIC Student Center East); 750 S. Halsted St., Chicago, IL. See map at https://go.uic.edu/2023_AccessibleJuneteenth_Map for more details on where the Quad is located, which public transportation stops and garages are nearby, and where paratransit and rideshare can pick/drop you off at.
RSVP at https://go.uic.edu/2023_AccessibleJuneteenth_RSVP to get event notifications!  
This year, we will have a DJ who will bless us with music fit for our Accessible Juneteenth celebration. There will be food, giveaways, and resources given out by vendors including those from Black-owned and disability-owned/friendly organizations and businesses.

We will host an open-mic where you can share your talents in singing, spoken-word, playing instruments, and more! Sign up at https://go.uic.edu/2023_AccessibleJuneteenth_OpenMic_Signup by June 9th at 11:59pm CT, or sign up in-person at the event. But hurry, because spots are limited!
If you're not able to attend the celebration in person, that is okay! You can join us virtually; we will host a livestream of the open mic portion of the event. Register for the livestreams at https://go.uic.edu/2023_Virtual_AccessibleJuneteenth_Stream,  or watch the livestream on Chicagoland DPOCC's Facebook page on June 17th.
ASL will be provided for open mic portion; live captioning will be provided for the livestream of the open mic portion.