Community Partnerships
We have partnerships with many community organizations in Chicago that support our teaching, research and scholarship, and service missions. Below is a partial list of our most active partners.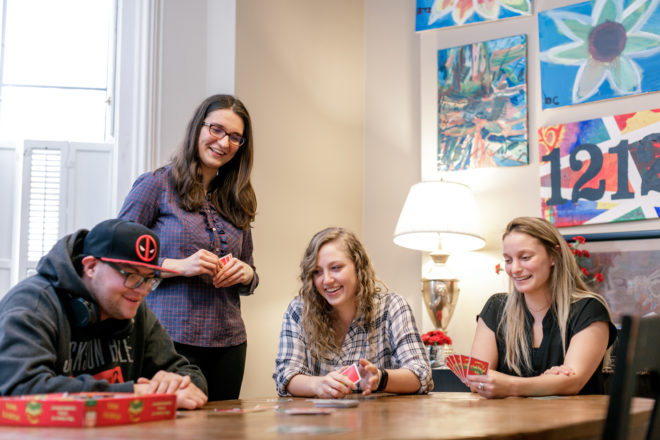 Access Living, the Chicago Center for Independent Living, is a disability advocacy organization that is run by people with disabilities. They provide peer support and resources to people with a variety of disabilities and engage in disability advocacy.
Bonaventure House is a transitional living facility for adults with HIV or AIDS, and who were homeless or at risk of becoming homeless. It serves as a resource center to assist up to 35 residents in transitioning to independent living. Many residents are in recovery and have a history of addiction.
Chicago Family Partners formerly WACA (The Westside Association for Community Action) is a community-based, social service agency that has provided a wide range of critical services to residents within Chicago's westside communities for over 40 years.
El Valor serves adults with mild to moderate intellectual disabilities in community group homes and a day program. The day program includes activity groups as well as a computer lab and fitness activities. There is also a healthy lifestyles program run by the UIC OT department.
Esperanza School serves children and young adults with a variety of moderate to severe developmental disabilities, primarily autism, as well as behavior needs.  The school is a private, therapeutic day school and provides a bilingual Spanish-English environment.
Family Rescue is dedicated to eliminating domestic violence in the Chicago community by providing comprehensive support services and shelter to victims of domestic violence, particularly abused women and their children, engaging in advocacy to promote future system change, and encouraging prevention through community education.
Gigi's Playhouse supports both children and adults with Down syndrome. GiGi's Playhouse Chicago offers a variety of educational and therapeutic programs to meet the needs and provide foundational learning opportunities for individuals with Down syndrome, their families and the community.
MADO Healthcare provides residential care and evidence-based services for adults who live with a serious mental illness. MADO provides support for individuals to enhance independent living skills, facilitate community integration, and transition to community living.
Marjorie Kovler Center helps transform the lives of refugees recovering from the complex consequences of politically-sanctioned torture. Kovler Center provides medical, mental health, and social services as well as a bi-monthly cooking group for survivors, gardening, and computer and English classes.
Mary Crane Center is dedicated to the comprehensive early development of children and to supporting their families through a variety of programs. Our goal is to provide quality education in a safe and diverse environment and to strengthen the bonds between children and their families.
Midwest Brain Injury Clubhouse (MBIC) provides lifelong community based rehabilitative support to persons affected by brain injury and stroke. MBIC is a unique place where individuals can come to relearn skills through the work of the day. For many, the Clubhouse is the next step in transitioning from a brain-injured patient back into the real world.
St. Leonard's Ministries, Michael Barlow Center and Grace House, serves formerly incarcerated men and women (ex-offenders). The Barlow Center has a high school completion program which also provides one-on-one tutoring. Grace House is a residence for women and they provide fitness, yoga, and wellness programs.
Urban Autism Solutions is dedicated to changing outcomes for young adults with autism through an integrated community life that advances social and vocational opportunities. Their initiatives include:  Growing Solutions Farm, community integrated residences, social programs and independent living and learning experiences