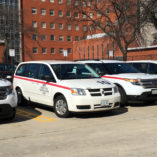 Assistive Technology Unit
Focus Areas
Email
Office Phone
Office
1640 W. Roosevelt Rd., 412 DHSP
Related Sites
About
At the Assistive Technology Unit, we provide commercially-available, modified, and custom-designed equipment to help maximize independence.
With our nine mobile units, we bring our services directly to you. We'll visit you at home, school, work or recreation area, and test your devices where you use them. The people important to you can take part and learn along with you.
Our staff includes occupational therapists, physical therapists, speech-language pathologists and rehabilitation engineers recognized by RESNA as assistive technology professionals. We are the largest mobile assistive technology program in the country and the only one in Illinois.