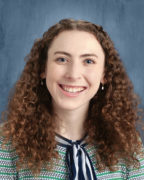 Sarah Chew
Academic Program Coordinator, Disability and Human Development
Focus Areas
Email
Office Phone
Office
1640 W. Roosevelt Rd., 709 DHSP
About
Sarah Chew currently serves as the academic program coordinator for the Co-Operative Career Experience Certificate Program, a pre-baccalaureate certificate for students with intellectual disabilities that is funded by a federal Transition and Post-Secondary Program for Students with Intellectual Disabilities (TPSID) grant (2020-2025).
Sarah's primary research interest is accessible and integrated urban higher education, specifically for students with intellectual disabilities. She has enjoyed studying the use of AI as an assistive technology to increase access to higher education.
Informed by her personal experience as a self-advocate, her ongoing research interests include culturally responsive and neurodiversity affirming teaching, education for "twice-exceptional" learners, education for students with PANS/PANDAS, and person-centered planning best practices for college students with intellectual disabilities.
Sarah is currently a Ph.D. student in the department of Special Education at UIC.
Service to the Community
Training on practical applications of disability studies for educators and other professionals working with K-22 students (2020-); Young Life Capernaum Chicagoland advisory board (2019-2023); Best Buddies International Diversity and Inclusion Committee (2020-2021)
Education
MA, Teaching Exceptional Learners; Relay GSE, anticipated 2024
Graduate Certificate, Assistive Technology, anticipated 2024
Graduate Certificate, Nutrition and Healthy Living; eCornell, 2020
Graduate Certificate, Data-Driven Marketing; eCornell, 2019
Graduate Certificate, Digital Marketing, eCornell, 2018
BA, Interdisciplinary Studies, Concordia University Chicago, 2018