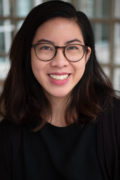 Litany Esguerra
Outreach Program Coordinator, Co-Op Program, Disability and Human Development
Visiting Research Specialist, Co-Op Program, Institute on Disability and Human Development
Focus Areas
Email
Office Phone
Office
1640 W. Roosevelt Rd., 251A DHSP
About
Litany currently serves as the Program Coordinator for the 'Model Comprehensive Transition and Post-Secondary Program for Students with Intellectual Disabilities' (TPSID) grant, which funds the UIC Co-Operative Career Experience Certificate program (2020-2025).
She has prior experience working with the National Disability Rights Network and the Obama Foundation in Washington, D.C. and internationally with the NGO, the Comprehensive Rural Health Project (CRHP) in Jamkhed, India on rural community-based primary healthcare.
Litany's interdisciplinary research fields involve critical disability studies, inclusive higher education, and sociology. In particular, her interest is influenced through British sociological perspectives of the social model of disability. Her other ongoing interests include disruption and identity, intersectionality, disability and technology, posthumanism, WHO's International Classification of Functioning model, amputees and prosthetics ("developing world prosthetics"), and participatory and emancipatory research methods.
Service to the Community
Co-Chair (2023-2024), UIC Chancellor's Committee on the Status of Asian Americans (CCSAA) Staff Council Member (2023-2024), College of Applied Health Sciences Committee Member (2022-2023), UIC Chancellor's Committee on the Status of Asian Americans (CCSAA)
Education
M.A., Disability Studies, University of Leeds, 2020
B.S., Rehabilitation Sciences, University of Illinois at Chicago, 2018