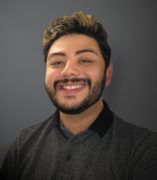 Dimitri Nesbitt
Campus Experience Specialist, Institute on Disability and Human Development
Research Specialist, Disability and Human Development
Focus Areas
Email
Office Phone
Office
1640 W. Roosevelt Rd., 251D DHSP
About
Dimitri works as a Campus Experience Specialist for the UIC Co-Operative Career Experience Certificate Program. He also helps develop knowledge mobilization and marketing processes for the Department of Disability & Human Development.
He is a trained urban planner and designer interested in public space management, placemaking, and place marketing that encourages community engagement on urban issues. Dimitri actively develops design languages and processes aimed at improving access for minoritized communities.
At UIC, his master's research and work experience includes local, regional, and global studies into policy and spatial design in the Chicago Loop, Bronzeville, Berwyn, Blue Island, Kigali, Mexicali, and Mexico City. Dimitri's work experience at DHD has contributed to forming novel approaches to participatory and emancipatory knowledge translation for communities with intellectual and developmental disabilities.
Dimitri's ongoing research interests include urban geopolitics, community development practice, and geospatial visualization for justice-oriented urban policy research, plan-making, and community outreach.
Education
M.U.P.P., Master of Urban Planning and Policy, University of Illinois Chicago (2022)
Certificate in Geospatial Analysis & Visualization, University of Illinois Chicago (2022)
B.A., International Studies, University of Wyoming (2020)
A.A., Social Science, Eastern Wyoming College (2019)