To serve and protect
Thursday, February 13, 2020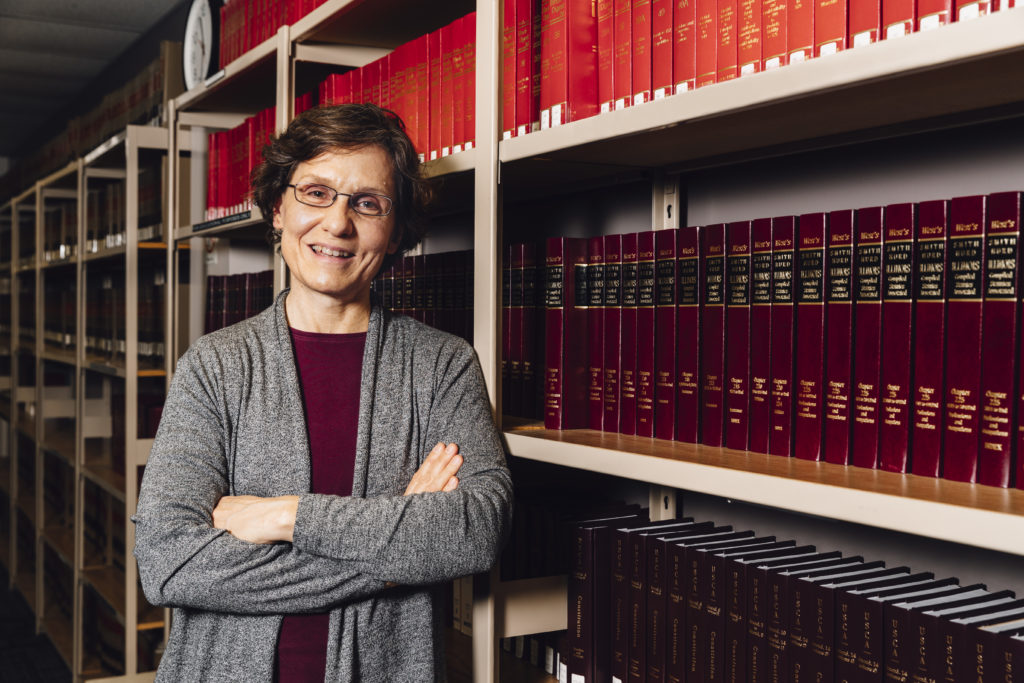 Susan Kahan provides those who work in the justice system with the skills to better serve people with developmental disabilities.
An off-duty sheriff 's deputy was shopping in Walmart when he walked into a frantic scene: a young man sitting in the corner fidgeting with a small toy, surrounded by angry security guards. The guards were yelling at the youth to put his hands behind his back. The young man was crying.
"Step back," the deputy told the security guards. He asked the youth, "are you stimming?"
The young man nodded yes.
A few more questions, and the deputy had the story: the youth had autism, he had become separated from his father in the store, he was frightened, and he had grabbed the toy to soothe himself. When the panicked father appeared, peace was restored.
How did the deputy correctly assess the situation?
He had taken a 40-hour training program on crisis intervention that includes a workshop on developmental disability and communication led by Susan Kahan, DHD clinical staff member and clinician in the UIC Developmental Disabilities Family Clinic.
Before taking the training, the deputy had never heard of stimming (self-stimulatory behavior, repetitive motions or actions that people with developmental disability sometimes use for calming). Like the security guards, he would have assumed the young man was resisting.
There are so many cases where things go horribly wrong because a behavior that's born of mental illness, developmental disability or trauma is mistaken for being oppositional or defiant, says Kahan.
Kahan, a licensed clinical professional counselor, is a go-to expert whose work focuses on crisis and trauma related to children and adults with developmental disabilities.
As a consultant at the Chicago Children's Advocacy Center—a nonprofit that responds to reports of child sexual and/or physical abuse, witness to violence and other serious maltreatment—she advises forensic interviewers, detectives, assistant states attorneys, child protection services investigators and others on cases with survivors and witnesses who have developmental disabilities.
"Susan has been an incredible asset to the staff of the Chicago CAC," says Carmel Browne, director of MDT Coordination at the center, citing Kahan's "understanding of development disorders and working with individuals with complex challenges due to special needs."
Kahan conducts sessions on crisis intervention and DD for law enforcement officers through the Cook County Sheriff 's Department and the Chicago Police Department, as well as at national and international symposiums.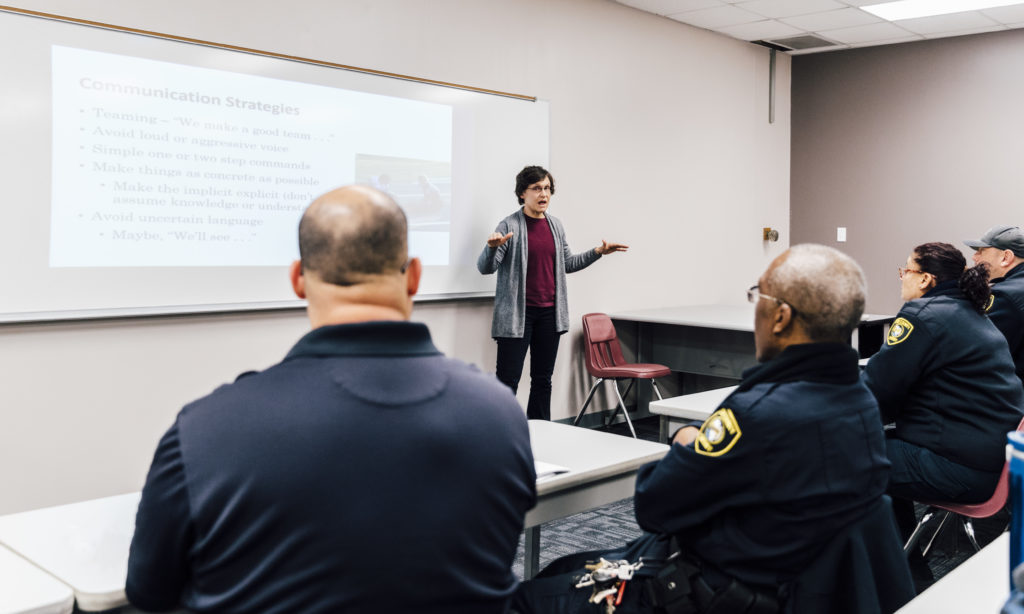 She is the mental health consultant for an Illinois Department of Health and Human Services pilot project, the Short Term Stabilization Housing program. The program helps people with DD whose behaviors put them at risk of being moved into state facilities.
She is a member of the National Human Trafficking and Disabilities Working Group, and the task force on the Protection of Individuals with Disabilities in the Criminal Justice System.
A common thread in these different roles? Providing those who work in the justice system with the communication skills to effectively interact with, understand and protect people who have DD.
Prosecutors and investigators are sometimes reluctant to pursue cases because they don't understand development disability and they don't think people with DD can provide accurate, reliable testimony, Kahan says.
To counter that, Kahan starts by normalizing the behaviors associated with developmental disability. For example, asks, do you twirl a lock of hair or tap your foot when you're nervous? That's a form of stimming.
"I point out that there's nothing unique about the behaviors associated with autism or other developmental disabilities. These characteristics are all things they've dealt with before, just to a lesser degree."
Kahan is trained in forensic interviewing, although she does not conduct interviews herself. This helps her advise forensic interviewers, police and prosecutors on how to structure an interview that's sensitive to the witness, while gaining information that will hold up in court.
For example, people with autism and other developmental disabilities sometimes have diminished perspective taking— they think that if they know something, others do too.
"In a forensic interview, they might leave out salient information because they think you already know it. The investigator might think they're leaving things out on purpose. You have to make sure you're asking enough questions, and the right questions," Kahan says.
Kahan's sessions on crisis intervention and people with DD is a valuable resource for law enforcement, says Carl James Alaimo, who directs Advanced Mental Health and Crisis Intervention Team Training for the Cook County Sheriff 's Bureau of Training and Education.
The training gets "overwhelming response from officers," he says. "Many state they wish they had the training when they began their careers, and that the training should be ongoing.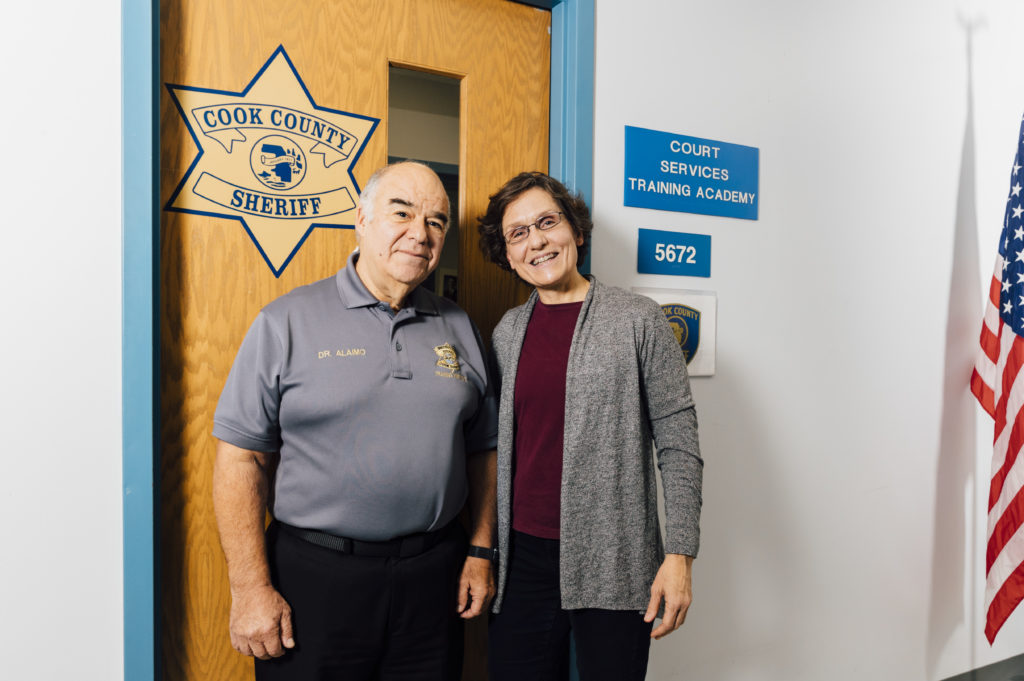 Many share how her session has helped them understand the issue of autism and DD/IDD in their personal lives
Her work with clients of the Short Term Housing Stabilization project is the flip side of the police training. She wants to help her clients learn to avoid the behaviors that result in police encounters by addressing their trauma and mental health issues. She offers group sessions on anger management and emotional regulation for clients and training for agencies that want to incorporate it into their programs.
"I try to work proactively to avoid crises," she says.
Kahan worked in disability services for 20 years as an administrator and advocate before she became a licensed clinician. She was a LEND (Leadership Education in Neurodevelopmental and Related Disabilities) fellow at DHD and an intern at the UIC Developmental Disabilities Family Clinic; after completing her internship, she remained on the clinic staff.
Kahan has a son with autism, "which gives me perspective," she says. "It certainly has been helpful to me in my work as a clinician."
At the heart of her work is the desire to protect a population that is particularly vulnerable to victimization, Kahan says.
"Part of this protection involves effective investigation and prosecution—more collaborative relationships between law enforcement, prosecutors and people in the disability community.
"I do the best I can to be a part of the solution."